Turn your iPhone into a compact fully featured navigation system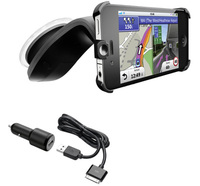 Garmin announces an attractive navigation package for all iPhone 4/4s users. At retailers around the UK you can now purchase the brand new Garmin designer car kit, plus StreetPilot Western Europe navigation app covering 24 European countries saving you 30%.
"This is the first time customers can buy an iPhone navigation app together with a designer car kit in retail in one place, ensuring a safe in-car mount with style to match the iphone," explains Mark Timms, Garmin's Automotive Product Manager adding,"The combined purchase of the app and car kit saves you £20 which is a great deal."
Designer Car Mount & StreetPilot Western Europe Navigation App: The Garmin car kit consists of a car mount including a designer suction pad holder, designed by the renowed international design studio 'Platinumdesign', along with a car charger which powers your iPhone as you drive. Additionally customer receive the Garmin StreetPilot navigation app including Western Europe map* which turns your iPhone into a fully featured navigation system. The StreetPilot App & car kit package will be available at an RRP of £79.99 at retailers across Europe**. Purchasing this package saves consumers £20.00 in comparison to buy the car kit in retail (RRP £29.99) and download the StreetPilot Western Europe app at the App Store (£69.99) separately.
StreetPilot - The Lightning-Fast iPhone Navigation App: The StreetPilot App is available to download from the App Store direct to your iPhone with a redemption code, which is included in the box. It's packed full of the great Garmin navigation features found in our award-winning navigators and includes real-time speed camera updates, with no monthly subscription costs. StreetPilot is the first iPhone navigation app to include PhotoReal images of complex junctions, to help you navigate with confidence (available in 20 countries). Detailed 3D buildings also help you to get a clear understanding of your journey surroundings. For the ultimate navigation experience upgrade to Garmin's new advanced traffic service - 3D Traffic Live and Garmin's unique PhotoLive Traffic Cameras (available in Sweden, Denmark, Norway, Finland and UK) providing live pictures at key points on the road ahead.
Simple To Use Navigation: Garmin StreetPilot App gives iPhone users an intuitive Garmin interface for everyday navigation - without tapping into your dataplan. With ultra-fast map drawing, panning and zooming, the preloaded maps and Points of Interest offer coverage even when there is little or no mobile signal available.
PhotoReal Junction View: With advanced navigation features such as Garmin's exclusive PhotoReal junction view, which shows actual junctions and road signs that have been digitised to display incredible detail even down to trees and pilons; lane guidance; 3D buildings; trip planner; trip computer; Garmin's "Where Am I?" safety feature.
Crowd Sourced Safety Cameras***: The Speedwatch safety camera service is provided by Garmin, in conjunction with Cyclops - the market leader in safety cameras, and is included with every purchase of the StreetPilot app. The service includes not just fixed safety cameras and potential mobile sites but also includes crowd sourced mobile camera reports from the whole Speedwatch & Garmin community - to ensure you travel safely, legally and speed-consciously.
3D Traffic 'Live' Services: Drivers can upgrade their Garmin Street Pilot App to include Garmin's latest traffic technology; 3D Traffic live services for super fast traffic alerts and extended traffic coverage, keeping you connected at all times. Also available as an in app purchase is trustworthy information on the best fuel prices****.
The new iPhone app can be also customized to show different sets of data on the map screen, such as arrival time, time/distance to destination, next via point, direction of travel or even elevation.
See Garmin's other apps for a wide variety of activities at garmin.com.
*The free map coverage includes: Andorra, Austria, Belgium, Corsica, Crete, Denmark, Finland, France (with Corsica, French Guiana, Guadeloupe, Martinique, Réunion, St. Barthélemy), Germany, Gibraltar, Greece, Guernsey, Iceland, Ireland, Isle of Man, Italy (with Sardinia), Jersey, Liechtenstein, Luxembourg, Malta, Monaco, Netherlands, Norway, Portugal (with Azores Islands, Madeira), San Marino, Shetland Islands, Spain (with Canary and Balearic Islands), Sweden, Switzerland, United Kingdom.
**Available in Austria, Belgium, Denmark, Finland, France, Germany, Italy, Luxembourg, Netherlands, Norway, Sweden, United Kingdom.
***Based on real-time feedback from the 'Speedwatch' community, where available.
****Where available, additional purchase required.