95% mortgage helps couple into first home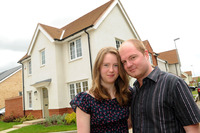 Holly and Shaun Murdoch have swapped a two-bedroom rented flat for a brand new four-bedroom home in St Neots with the help of a 95% mortgage.
The couple were able to use the new Government-backed NewBuy initiative to get onto the property ladder much sooner that they expected.
In doing so they became Redrow's first NewBuy home owners.
And with the average first time buyer now well into their 30s, Holly, 24, and Shaun, 29, are bucking a trend.
Holly explained: "We'd been renting a two-bedroom flat in Ware for about three years while we were trying to save a deposit for a home of our own. It would have taken years to save enough to buy on the open market. If NewBuy hadn't been available and based on the savings we had, we would have struggled to buy a two-bedroom home."
Instead, after researching NewBuy, they realised that a 5% mortgage was all they needed to realise their dream. With nothing suitable available locally in Ware they widened their search and eventually arrived at Redrow's popular Priory Gardens venture in St Neots.
St Neots is well placed for Holly to drive to Northampton, where she works as a web development manager and, with the development close to a mainline station, for business analyst Shaun to commute to London by train.
"We looked around at various developments and there was no comparison to what Redrow had to offer. We love the more traditional design of the homes and the quality of build is so much better," Holly added.
"We'd definitely recommend NewBuy because it really helped us – we wouldn't have been able to buy without it and certainly wouldn't have been able to afford a home as big as ours. It's somewhere we can grow into not out of. We intend to stay here for many years to come."
It's not just first time buyers who can take advantage of NewBuy; it's open to existing home owners including those with limited equity in their current home.
Introduced earlier this year in a bid to kick-start the housing market, participating lenders provide a 95% mortgage for buyers who meet their qualifying criteria. The lenders are protected by a mortgage indemnity guarantee (MIG) jointly funded by Redrow and the Government.
Mary Timlin, sales director for Redrow Homes (South Midlands), said: "NewBuy is perfect for those who have sufficient income to make monthly mortgage repayments but don't have a sizeable chunk of cash or equity in an existing home to put down as a deposit. Like Holly and Shaun they find themselves paying rent month in month out with nothing to show for it at the end of the day. But, thankfully, not anymore."
Current availability at Priory Gardens includes a choice of three and four-bedroom homes, priced from £219,950. However, Redrow is offering NewBuy throughout England and Wales on properties up to £500,000.
Visit redrow.co.uk to find out more.