New homes in Cambridgeshire with a lasting legacy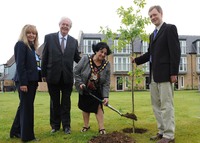 Future generations at a Taylor Wimpey development of new properties in Cambridgeshire will be able to enjoy a lasting legacy of the Queen's Diamond Jubilee.
An oak tree has been planted at the leading housebuilder's Papermill Lock development of new homes for sale in Little Paxton, near St Neots, to mark the 60th anniversary of Queen Elizabeth II's ascension to the throne.
Little Paxton Parish Council donated the Jubilee tree to the community at the development, and Huntingdonshire District Council chairman, Cllr Barbara Boddington, had the honour of planting it at an official ceremony.
Stacy Dornan, Regional Sales and Marketing Director for Taylor Wimpey, says: "Taylor Wimpey homes are built to withstand the test of time, and it's amazing to think that Papermill Lock residents will be able to admire the Jubilee oak as it reaches full maturity in many, many years from now.
"The donation of the tree is a very kind gesture by the council and I am sure residents at the development of new houses and apartments in Cambridgeshire will enjoy watching it grow."
The ceremony, which took place on Thursday 21st June, was attended by representative from the parish and district council, plus Taylor Wimpey, the CHS Group, which owns affordable homes at the development, and Cambridge and County Developments.
An impressive selection of two-bedroom apartments is currently available to reserve at Papermill Lock from as little as £129,995, while four-bedroom properties are available from only £204,995.
Visit taylorwimpey.co.uk to find out more.