Score an ace of a home, with a tennis court, in Boars Hill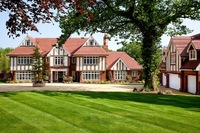 With the world's best-loved tennis tournament, Wimbledon, getting under way, there's no doubt that many people will be dusting off their rackets. However, instead of heading to a local club, wouldn't it be great to head down to your own tennis court? Well, it could be game, set and match for one discerning house-hunter who purchases Radcliffe House, a new home in Boars Hill.
This Tudor-inspired property enjoys the use of a tennis court, ideal for a game of doubles in the summer sun, set in the plush external surroundings of the home, with a backdrop of foliage, including majestic specimen trees, mature shrubs and grassland.
David Wrigley, Head of Sales at Millgate Homes, comments: "With the start of Wimbledon upon us and the Olympics after that, there's no doubt that the nation will be gripped by tennis fever. For those more avid fans, who are also looking for a new home in Boars Hill, Radcliffe House offers the perfect solution. The fact that it also benefits from an award-winning calibre only adds to the property's desirability."
Indeed, Beech House, one of Radcliffe House's neighbouring properties in Boars Hill, was just announced as the 'Best Family Home', at this year's Evening Standard New Homes Awards. The fact that it shares a similar internal layout and the same combination of traditional design and contemporary specification, for which Millgate Homes is renowned, demonstrates what a wise purchase this would make.
Set in two acres of landscaped grounds and, spread over three storeys, including a master suite to rival the type of luxury found in the world's top five-star hotels. Radcliffe House also features a heated outdoor swimming pool, with a summer house.
As if this weren't generous enough, extra accommodation can be found above the triple garage, in the form of a self-contained cottage, which provides an additional bedroom, bathroom and open-plan kitchen and living room.
Radcliffe House is currently available for £3.85m. Visit millgatehomes.co.uk to find out more.