Hamblys two for one FM rigid goes to top of the Claas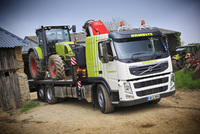 A new Volvo FM 6x2 rigid painstakingly specified to the requirements of family-owned Agricultural Machinery Dealership Hamblys Ltd is doing work that previously required two vehicles, according to Managing Director Steve Barrett.

Supplied by Truck and Bus Wales & West and serviced by Stuarts Commercials of Exeter the Volvo is designed to carry a wide range of agricultural machinery sold by the company throughout the South West of England.

Specifications include a Volvo D11C engine rated at 370-hp, I-Shift two pedal fully-automated gearbox and rear-steering axle for improved manoeuvrability.

The single-berth sleeper cab is equipped with a Volvo monitor linked to a reversing camera installed at the back of the truck.

A nine-tonne front axle equipped with 385/65R22.5 tyres is in place to take the extra weight imposed by the front-mounted Fassi self loader.

"There were several reasons for choosing the Volvo," explained Steve Barrett. "But fundamentally we decided after looking around the market-place that the Volvo offered the best overall combination of quality and affordability."

The bespoke platform beaver-tail body, cheese-wedge loading ramps and Fassi F-235A crane supplied and fitted by S W Commercials Ltd of Redruth ensure that the process of loading and unloading the Claas machinery is both faster and simpler than was possible with the company's previous vehicles.

"Everything is quicker and easier now," said driver Kevin Locke, "With this set-up, loading and unloading just about any of the machines we handle is generally a one-man job. The truck is just superb. I can't fault it. I was a little wary at first about having an automatic gearbox because of the tight places we have to squeeze in and out of, but the I-Shift actually offers more control than you get with a clutch pedal."

Operating out of Launceston, Cornwall, Hamblys' Volvo will cover approximately 100,000 kms each year over the undulating roads of Cornwall, Devon, Dorset and West Somerset.

Fuel consumption is currently reported at 10.5mpg according to both the driver and the Managing Director, a figure that has already exceeded expectations.