The rise of the early downsizers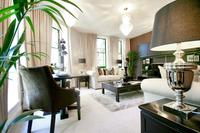 Storey Homes highlights the trend of early downsizing from the family home to a more manageable property. Apartments at The Limes in Ampthill, Bedfordshire enable homeowners to downsize from their family home without compromising on style or comfort and enabling them to enjoy luxuries such as travelling.

This popular move by many downsizers has already been seen at the apartment development at The Limes, whereby the average age of new residents is 55.
Mark Storey, Director of Storey Homes describes how "downsizers are a strong force in the property market today – I believe the need for a smaller property that is concise, comfortable and secure is more important.

"Choosing to leave the family home of 20 or 30 years can be a difficult move – but with the many storage solutions and security found at the The Limes, the apartments provide the necessary accommodation needed for a new lifestyle."

Often, many homeowners take the opportunity to declutter from the family home and focus on the important things they use each day instead. This makes for a bright living space in the modern housetype. Situated in a leafy and predominantly residential area, The Limes offers modern sophisticated living with high specification both internally and externally.
The historical town of Ampthill in Bedfordshire is an ideal location for the best of both worlds because as it's a new build property - it alleviates the previous hassle of maintaining the family home, but equips homeowners with the perfect chance to focus their time on other activities. All everyday shops such as a Waitrose, butchers, bakers, doctors and dentists are all local to the The Limes, along with many idyllic views and local amenities to the development. The Firs, The Alameda, with its beautiful avenue of trees and Ampthill Park offer relaxation and places to unwind.
But for travelling in and around London, Flitwick station is just down the road providing frequent services into London St Pancras in under an hour. The gated development, secured car parking and floor by floor security provides homeowners with the comfort that their possessions will be left safely if they do decide to travel or enjoy long holidays.
The specification afforded to these homes is unmatched, from the well equipped kitchens, fitted with high quality units and worktops and complete with a selection of built-in appliances as standard, to the luxury bathrooms furnished with hi-end white suites and chrome fittings. All apartments have underfloor heating and high quality flooring throughout. The master bedrooms have the advantage of stylish ensuite facilities adding a further touch of sophistication and the three penthouses benefit from large terraces.
The low maintenance property comes with a 2 year customer service guarantee from Storey Homes for peace of mind for new ownership.
Prices at The Limes currently start at £199,950 for the two bedroom show apartment but availability is limited. For further information, visit storey-homes.co.uk.