Morris' cost-effective move for first-time buyers in Sedgley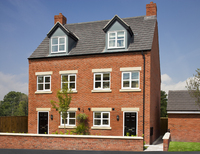 Househunters fed up of escalating rental costs are being offered a cost-effective solution by local housebuilder Morris Homes at its popular Sedgley development.
With househunters in the UK spending an average 38 per cent of their net income on rent*, properties at Morris' sought-after Eden Fields development on Charles Hayward Drive provide a welcome step onto the property ladder for first-time buyers.
A selection of the new build properties at the site are available with the Government-led FirstBuy scheme. The helpful initiative allows qualifying first-time buyers to purchase a home at Eden Fields for 80 per cent of its market value, reducing the size of the deposit needed.
Cindy Vials, regional sales director at Morris, said: "The FirstBuy scheme is ideal for buyers looking to escape the expensive rental market and move into home ownership because it provides them with lower mortgage payments, and it is no surprise it is a popular scheme at Eden Fields."
The properties at Eden Fields provide easy access to essential amenities in nearby Wolverhampton city centre, and great links to the local motorways makes travelling to Birmingham simple for commuters.
Cindy added: "The ideal location of the Eden Fields homes means that they are a popular choice for families and young professionals looking to move to a cost-effective, high quality property and avoid rising rental costs."
Morris has a selection of three bed homes available at Eden Fields that start at £149,950** under the FirstBuy scheme or are available from £187,750 without the initiative.
Visit morrishomes.co.uk for further information.
*Data from the Rightmove Consumer Confidence Survey Q2 2012
**Price quoted at 80 per cent of its marketed price under the FirstBuy scheme, subject to terms and conditions. Price is correct at time of going to press.