All things quirky and beautiful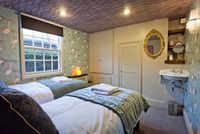 This summer it's good to be British and there's nobody quite like the Brits when it comes to doing quirky and eccentric. So this week we've picked our favourite quirky holiday homes in the UK, from an Alice In Wonderland inspired Brighton cottage and a vintage Airstream trailer bought on Ebay to a Liverpool house boat converted from a film prop. And the good news is that prices start at just £14 per night - quirky doesn't have to mean pricey!
Looking Glass Cottage, Brighton, Sussex
Taking Alice in Wonderland as its inspiration, this quirky but very cool holiday home has been designed with references to cards, key holes and looking glasses throughout. Located in Black Lion Lane in the heart of Brighton's buzzy South Lanes, it's one of a row of lovely cottages that date back to 1565. Sleeps up to eight (three bedrooms), from £127 per night, holidaylettings.co.uk/201184.
The House, Montpelier, Bristol, Somerset
Designer and artist owner Samantha spent a long time renovating this lovely Bristolian house while aiming to keep the original vibe and character of the place. The end result is quirky, original and totally unique thanks to a mix of antiques, personal treasures and vintage wallpapers. Located in the heart of Bristol's Montpelier, the old merchants' quarter, there's plenty on offer nearby including great restaurants, shops and nightlife. Sleeps up to eight (four bedrooms), from £214 per night, holidaylettings.co.uk/208982.
The Joker Boat, Albert Dock, Liverpool
This boat was originally built for the Joker's Gotham City home for the film Batman, but the scenes were never used and the boat made its way to an LA scrap yard where the current owners found it. They brought it to Liverpool where they turned it into a smart and well equipped apartment boat. Located in the historic Albert Dock, it's within walking distance of most of Liverpool's tourist attractions. Sleeps up to six (three bedrooms), from 104 per night, holidaylettings.co.uk/197646.
Shepherd's Hut, Somerford Keynes, Cirencester, Gloucestershire
These two lovely wooden shepherd's huts on wheels are connected by a raised deck with seating. Recently refurbished, they feature pine clad walls, wooden floors and crickle windows. Nearby there is a large open communal tent with sink, fridge and cooking area and there's also an on-site solar shower and toilet facility. The huts are located at the edge of the water parks with plenty of water sports on offer and there's also the historic market town of Cirencester to discover nearby. Sleeps up to two (two bedrooms), from £14 per night, holidaylettings.co.uk/128637.
Beach Sun Retreat, Dymchurch, Kent
Occupying the ground floor of a former hotel, this amazing property features innovative health-giving sun simulators in a dedicated sun room that's part of a glam, St Tropez-style living area. And the entertainment doesn't stop there - there are also vinyl decks and a cinema room complete with velvet cinema seats and popcorn machine. Sleeps up to six (three bedrooms), from £171 per night, holidaylettings.co.uk/174840.
Ledge Beach Hut & Boat House, Bembridge, Isle of Wight
Approached from the cliff top and located right on the Bembridge beachfront, this bright beach house is the perfect seaside getaway thanks to its quirky and colourful interiors, open plan living space, decked outside area and uninterrupted sea views. Sleeps up to four (two bedrooms), from £82 per night, holidaylettings.co.uk/23238.
Priory House, Long Bennington, Lincolnshire
The owners of this lavish property, a sculptor and a fashion designer, have combined their two passions to create an amazing holiday home which includes a grand Georgian house and an adjoining Elizabethan long-house with utterly beautiful interiors. The property is set in 1.5 acres of private grounds on the edge of the village of Long Bennington. Sleeps up to eight (four bedrooms), from £1,210 per week, holidaylettings.co.uk/144856.
Betsy the Airstream Trailer, Horton, Wimborne, Dorset
Kevin and Jenni bought their beloved 1972 Pennsylvania airstream trailer Betsy on Ebay after they left London with their two children for a new life in the Dorset countryside. She needed a bit of TLC so they worked hard to refurbish her while retaining as many of the original features as possible and went with an American diner feel with black and white checked floor, red upholstery and vintage fabrics. Sleeps up to four (two bedrooms), from £66 per night, holidaylettings.co.uk/218841.
The Sweet Shop, Brighton, Sussex
This converted sweet shop features a quirky vintage theme thanks to a mix of flea market finds, fifties florals, reclaimed wood furniture and antique French chandeliers. It's situated in a quiet residential area just a 10 minute walk from Brighton's popular North Lanes shopping area and the vibrant seafront attractions. Sleeps up to 14 (four bedrooms), from £193 per night, holidaylettings.co.uk/138015.