Spend summer in grand style at L'Amphitrite Palace, Morocco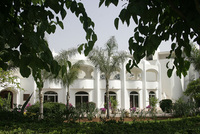 "Summer At The palace" sounds like a great experience, especially when it is at the heart of exotic Morocco.
L'Amphitrite Palace, located on a prime Atlantic Ocean beachfront, is the ideal location to discover the highlights of the country - with the capital Rabat just 20 minutes away, Casablanca 50 minutes and Fes and Marrakesh less than three hours by car, and the weather at Skhirat is balmy compared with the traditional tourist summer hot spots.
Summer At The Palace includes more bonuses the longer the stay. Book three nights and choose one bonus. Six nights gives a choice of two bonuses, and a ten night stay is rewarded with three bonuses.
The list of bonuses from which to choose includes round-trip airport transfers, Moroccan dinners, Oriental massages and afternoon tea.
And not only do guests rest and unwind in one of the most picturesque settings in Morocco, with a pampering spa at hand to assist with any revitalisation and rejuvenation programme, the rates offered in these packages are unbeatable.
Keen golfers can tee off at any of the four golf courses, conveniently located within a 30-minute drive of the resort, including the prestigious Royal Golf Dar Essalam. For those not wanting to go far afield, a half or full-day excursion to the nearby Imperial City of Rabat is a great choice.
Visit the old Kasbah, the Medina with it vast souk, the ornate mausoleum of Mohammed V and the pottery cooperative at the sister-city of Salé. On the return trip, stop by the Benslimane wine country – midway between the resort and Rabat.
Rates begin at just €175 per night, per couple in a superior room, based on a ten-night stay.
To check out the full details and the inclusions, visit lamphitritepalace.com.