The new homes at Lynton Green: designed for living, built to last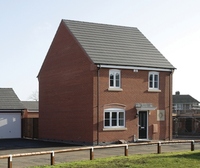 There are several reasons why house-hunters in Nottinghamshire should visit Lynton Green, in Sutton-in-Ashfield, and the fact that the homes here are built by Jelson Homes is just one of them.
Established in 1889, Jelson has an enviable reputation for building traditional, quality properties which really do stand the test of time. While Jelson's homes have changed with the times to accommodate the demands of modern living, the company still embraces the traditional values and principles which have always set it apart. Quality workmanship and value-for-money are as important today as they were over 120 years ago.
Jelson still employs its own plumbers, electricians and other tradesmen and runs its own apprenticeship scheme, so this collection of two-, three- and four-bedroom homes, at Lynton Green, is built by experts. The properties stand out from the competition, thanks to the house-builder's trademark features, including solid internal walls, carpets and floor-coverings throughout the home and kitchens measured and built by Jelson's own joinery workshop. This adds to the already-great value of these properties, especially as prices start from just £109,950.
Jelson aims to help to look after the environment, while also saving purchasers money, so purposefully includes features which do just that. Insulated floors, walls and roofs, as well as Jelson-made energy-efficient double-glazed PVCu windows, and an economical central-heating system help to keep any heat from escaping from the home.
There is also an exciting addition to the specification of the properties at Lynton Green: solar panels are fitted to the roofs of all of the new homes, as standard; so, buyers can expect to pay less on their utility bills.
Jackie Woodward, sales manager at Jelson Homes, comments: "Our properties in Sutton-in-Ashfield really offer house-hunters an ideal solution. We have several house types here, so there is something to suit everyone. Also, our sales adviser will be able to talk interested parties through just what makes our homes so special – from the traditional build and environment- and money-saving features through to the great value-for-money and fantastic location."
Lynton Green couldn't be better placed. Located off Lynton Drive, there's a good range of schools and leisure facilities nearby, and the town centres of both Sutton- and Kirkby-in-Ashfield feature plenty of amenities to satisfy your needs. For days out, in the great outdoors, the Peak District's breath-taking scenery is within easy reach.
Commuter links are excellent – there are rail services from Sutton Parkway station to Nottingham and Mansfield, and car users will find themselves close to the A38 and junction 28 of the M1, providing access to Mansfield, Nottingham and Sheffield.
Visit jelson.co.uk to find out more.