The great British house buy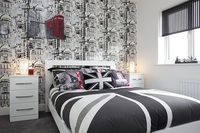 The wave of patriotism which continues to sweep across the land is said to be boosting the nations' spirits and their spending potential.
Over the summer it is predicted that an extra £1.4 billion will have been spent on drinks sales alone down to celebrations for the Jubilee and various sporting events. And, as the feel-good factor continues, house builders will ensure this summer is one to remember through offering a host of attractive purchase incentives to house buyers across the region.
"There is nothing like a major UK event to invigorate the nation and drive them towards achieving their dreams," said Steve McElroy sales director Miller Homes Yorkshire. "And, as owning a home is still the ultimate goal for most British families we are here to support them however we can."
If you needed any more evidence that there has never been a better time to buy, a recent report discovered that by purchasing your own home in the Yorkshire region you could typically save around £280,000 in contrast to the amount you would spend on rent.
In order to help prospective buyers climb onto the property ladder, 2012 has also seen the re-introduction of 95% mortgage by several of the major UK lenders. NewBuy, has been designed to help overcome the large deposit gap for many potential homebuyers by enabling them to purchase a new build property with only a small deposit of 5-10%. Lenders participating in the scheme will then provide a 90-95% loan to value mortgage for those who meet their qualifying criteria.
"Summer is the perfect time to view new homes and enjoy moving as we appreciate the longer days and hopefully warmer temperatures," said Steve. "Yorkshire is a great place to call home and we are looking forward to the upcoming sporting activities as we showcase the best of Britain to the world."
Miller Homes currently has twelve developments across the Yorkshire region and offers properties from one bedroom apartments to five bedroom luxury family homes, ranging from £77,500 to £320,000.
Visit millerhomes.co.uk for more information.