Hollywood in Egypt: Angelina Jolie and Brad Pitt visit Upper Egypt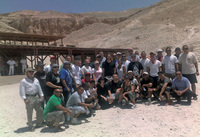 The two movie stars Brad Pitt and Angelina Jolie visited Upper Egypt at the beginning of June where they arrived to Aswan Airport on a private jet and were welcomed in the VIP lounge of the terminal. The couple stayed at Aswan's Old Cataract Hotel.

The trip entailed visiting Philae Temple, and the Nubian Museum and eating at the Nubian Beach restaurant. The following day they visited Kom Ombo and Edfu Temples, expressing their admiration of the Ancient Egyptian monuments.
Following their visit to Aswan, they went to Luxor where they stayed at the Winter Palace Hotel and visited the Western and Eastern Banks of the Nile including the Valley of The Kings and the Valley of The Queens, King Tut Ankh Amun's Tomb, Queen Hatshepsut's Temple and Abu Simbel Temple.
Angelina Jolie is currently preparing for her upcoming portrayal of Cleopatra. She will be coming to Egypt once more next August to visit the sites of the Egyptian Queen and the Minister of Tourism, H.E. Mounir Fakhry Abdel Nour, who promised all assistance and facilities.
Angelina said of her visit, "I'm converted completely on Egypt, this would be my hideaway place." Angelina Jolie and Brad Pitt concluded their visit with an invitation by H.E. Minister of Tourism for dinner on a boat on Aswan's Nile.