XQD S Series from Sony outpaces limits of CF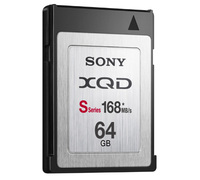 Sports photographers can achieve their best-ever shooting performance this summer with the new XQD S Series memory card from Sony.
The high-speed memory card also offers the capacity and reliability that's demanded by professional photo journalists covering sports and other tough shooting assignments.
Offering sustained read/write transfer speeds of 168MB/s (actual speed), XQD S Series outpaces the maximum interface speed limit of Compact Flash cards (167 MB/s).
Partnered with Nikon's D4 professional DSLR, XQD S Series effortlessly captures a non-stop burst of 108 RAW frames (at 12-bit compressed RAW, approximately 10.5MB file size). At a shooting speed of 10fps, this lets photographers document the men's 100m sprint final from start to finish in a single, sustained burst of RAW images.
The new card's blazing transfer speeds also slash PC backup times, boosting workflow for busy journalists and creative professionals facing pressured deadlines. Photo professionals can take full advantage of the card's unsurpassed transfer speeds, with back-up times slashed by over 30% compared with the fastest CF cards. A high-speed driver for the MRW-E80 XQD card reader is available now for free download at sony.co.uk/support/en/product/mrw-e80
Also available, free driver software allows XQD memory cards to be used with the latest Thunderbolt-enabled computers through a compatible card reader.
The card's high capacity of 64GB makes XQD S Series ideal for storing large volumes of data-heavy RAW files. This makes the card attractive for sports photographers who may be triggering the camera's shutter remotely and cannot conveniently change media cards.
From August, XQD S Series users can also download free new version of File Rescue, Ver 3.2, software by Sony, allowing recovery of accidentally-deleted photos and videos. It's the world's first file recovery utility that now supports latest AVCHD and 3D formats as well as RAW and MOV files. File Rescue software is also available for XQD H Series users.
The new XQD S Series memory card is available with 64GB capacity from July 2012. A 32GB card will also be available later in 2012 (September/October).
For more details, visit sony.net/Products/memorycard/en_eu/xqd/index.html