Sunday roasts rule for women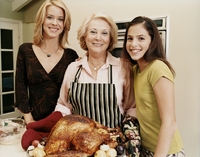 Traditionally a day of rest, Sundays have changed significantly thanks to the wealth of choice we now have at our fingertips. In a recent survey published as part of their 'Love your Shloer Sunday' campaign – the makers of the sparkling juice drink, Shloer, asked 2,000 British men and women how they spend their Sundays.
Food is the ultimate way to warm the nation's heart, and Mum's Sunday roast is still enjoyed at least once a month by three quarters of those surveyed. This much loved British dish is cherished by a notable 75% of women of all ages keeping the Sunday tradition alive in the UK. The great British roast dinner has been passed down the generations and shows the importance of sharing a meal with family and friends on a weekly basis.
A Shloer spokesperson said, "It's wonderful to see that Sundays still hold a special place in our hearts. The Sunday roast is a well-loved tradition that has brought British families and their friends together for years."
Another addition to the Sunday ritual is checking social media and email accounts. The survey showed that a whopping 78% of females check their online accounts up to three times a day on a Sunday.
Historian Dominic Sandbrook comments, "How people spend their Sundays changed most dramatically when the Sunday shopping law was passed in 1994. This really opened up the different types of Sundays that we see today. What was once a day for doing very little and staying at home can now be spent doing many different things. Whether it is spending time with family and friends, relaxing at home, shopping, eating out or having some time to yourself, people have more options today and enjoy doing different things with different people.
A spokesperson from Shloer concluded, "We're really lucky to have so many ways that we can spend a Sunday but we still need to try keep Sundays special and make it a day that family and friends can share together. With busy lifestyles and lots of commitments, it is even more important to enjoy time with the people we care about; Sundays are the perfect day for this!"