Post pregnancy wipe out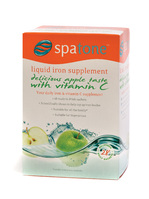 Any new Mums can relate to feeling constantly tired, or even wiped out. After all, your body is recuperating from the incredible physical challenge of pregnancy and childbirth. At the same time, you're caring for a newborn that needs feeding, nappy changes, and hands-on attention around the clock, so what sleep you do get is likely to be less restorative because it's so fragmented.
There could also be other reasons for fatigue post birth, so consult your doctor if you are struggling with feeling constantly tired. Low iron levels are a common cause which can add to fatigue as many women experience lower iron levels during pregnancy and child birth can further reduce iron levels. In this case a natural iron supplement may be beneficial, such as Spatone Apple.
Midwife, Maggie Evans, comments; "Pregnant women are particularly vulnerable to low iron levels due to the increased demand of iron for the optimum growth and development of the baby. In the last six weeks of pregnancy the baby builds up its own storage of iron from its mother to last for the first 4-6 months following birth. Therefore iron demands can triple by the end of pregnancy, this is often difficult to achieve from dietary sources alone, so help top up your iron levels with a natural iron supplement such as Spatone Apple."

Top Tips to Tackle Tiredness for New Mums:

Rest easier said than done, but rest when you can. Try sleeping when you baby sleeps in the day and go to bed as early as possible once you have put your baby to sleep

Drink plenty of fluids, try to make healthy food choices, and don't skip meals. Now is not the time to crash diet. Food is your fuel.

Walk try taking your baby out for a walk every day. Exercise can give you a boost of energy, and the fresh air and movement may help you both sleep better at night.
Spatone Apple combines the unique natural liquid iron supplement Spatone with added Vitamin C. One sachet of Spatone Apple provides your recommended daily amount (RDA) of absorbed iron and Vitamin C. Vitamin C is well recognised to increase iron absorption, contributing to a healthy immune and nervous system whilst also supporting our energy metabolism, reducing tiredness and fatigue.
Spatone Apple contains Spatone spa water sourced from the Welsh mountains of Snowdonia National Park - which can help top up your iron levels whilst causing fewer of the unpleasant side effects often experienced with conventional iron supplements i. Generally, iron is a very difficult mineral for the body to absorb. However, the iron naturally present in Spatone has been shown to be easily absorbed, with up to 40% bioavailability, compared to 5- 20% from food and other iron supplements. The additional Vitamin C in Spatone Apple helps you to absorb iron, that's why each sachet of Spatone Apple includes added vitamin C.
Spatone Apple is available exclusively from Boots priced £9.95 for 28 sachets (4 weeks supply). For mail order go to spatone.com.