Pre-order New Super Mario Bros. 2 to grab a cool gift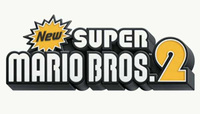 Ahead of the highly anticipated release of New Super Mario Bros. 2, available on Nintendo 3DS from 17th August, Nintendo is releasing a one-off collectable gold* coin case as an exclusive pre-order gift when you pre-order your copy at GAME and gamestation stores. The small case - a replica of Mario's iconic Coins - can hold any number of small objects, including the New Super Mario Bros. 2 Game Card itself, making it a handy accessory if you're always on the move.
Every Mario fan knows that he loves to collect Coins and in New Super Mario Bros. 2 the Mushroom Kingdom is bursting with more Coins to collect than ever before. Each level is littered with gold as they rain down from overhead pipes, trails of Coins are left behind by special gold enemies and pipes transport Mario into Coin-filled caverns.
It's up to you to collect as many Coins as possible throughout Mario's latest adventure and now you can collect a limited edition gold coin case before the adventure has even begun.
Simply pre-order New Super Mario Bros. 2 at GAME or gamestation to receive the collectable gold coin case. It's the perfect accompaniment to the latest golden Super Mario Bros. adventure, for any loyal Mario and Luigi fan!
Keep up to date with all the official Nintendo announcements and exclusive new game information by following the official Nintendo UK Twitter feed @NintendoUK
New Super Mario Bros. 2 will be available for Nintendo 3DS from August 17th.
*Please note that the New Super Mario Bros. 2 collectable gold coin case is gold-coloured only and does not contain any real gold.