Adventures in the land of the Celestial Mountains of Kyrgyzstan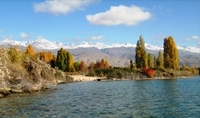 Adventure Worldwide has created one of the most intriguing and off-the-wall itineraries, to the land of the Celestial Mountains (Tien Shan), the former Soviet outpost of Kyrgyzstan.
The 10-day adventure holiday will take you through the country's diverse landscapes, commencing with a tour of Bishkek, where Lenin's statue still stands proudly in the main square.
From there, the small group (max. 10 people) will head for the alpine scenery and forested valleys of the Ala Archa National Park – home to the elusive and rare snow leopard – where the mountains peak at almost 5,000m.
A guided walk up the Ak Sai gorge will reveal views of the Alatau range of the Tien Shan, before visiting ruins of the Silk Road era and the Burana Tower, stopping for lunch with a Russian family before reaching Issyk Kul Lake, the second largest alpine lake in the world after Titicaca, for a refreshing swim.
Encircled by the Tien Shan Mountains, it is probably one of the most scenic places to take a dip on the planet. Next up is 'Stone Garden', which houses ancient petroglyphs dating back to the Scythian civilisation.
Other highlights of the trip include the Cossack garrison town of Karakol – with its Russian Orthodox Church constructed from wood yet using no nails – dining with a local Uyghur family, exploring Djety Oguz (Seven Bulls Gorge) on foot, meeting the famous Golden Eagle Hunters (and their Eagles) and a guided walk in Skazka, also known as the Fairy Tale Canyon.
The second part of the itinerary includes a visit to the village of Kochkor – where the locals make traditional felt carpets and other handicrafts – a drive through the dramatic Dolon Pass into Silk Road country to explore an ancient Silk Road Caravanserai hidden in a gorge of the dramatic At Bashi Mountains, Son Kul lake (Kyrgyzstan's second largest) and spending two nights in a yurt, mixing with local tribes-people and learning about village life.
The first departure of this unforgettable trip is on 2 September 2012. It costs from £975 pp which includes all ground transportation, 9-nights' accommodation (hotel, family guest house & yurt) and all meals.
Fully-bonded for financial peace of mind, flight-inclusive prices are available on request.
Visit adventureworldwide.co.uk for further information.