Fly the nest with help from Redrow in Maidstone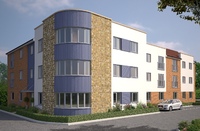 Those who long for a home of their own but think they can't afford to buy could be pleasantly surprised with a visit to Sutton Woods in Maidstone.
FirstBuy is available on selected two-bedroom Redrow apartments, enabling first time buyers to step onto the property ladder much sooner than they realised and without the need for a hefty cash deposit.
And with reports this week that more than three million adults*, aged 20-34, were still living with their parents last year due to house prices, rising rents and other living costs, the news that Redrow could help them to own their own home for less will be welcome.
Show casing the high specification contemporary interiors on offer at Sutton Woods, Redrow is now welcoming visitors to the brand new view apartment, which has been fitted out with carpets, curtains and light fittings. It shows off the space and layout of the property, as well as the quality of the fixtures and fittings; but at the same time provides a blank canvas so visitors can envisage how they would make this home their own.
Mary Timlin, sales director for Redrow Homes, commented: "According to the latest figures, the number of adults opting to live at home with their parents is up 20% compared with statistics from 1997. From the feedback we receive, we know that's not the ideal situation for those who long to own their own property. Our two-bedroom apartments at Sutton Woods make ideal starter homes and, thanks to FirstBuy, those who have saved around £5,800 could find it's enough to help them buy their first home."
FirstBuy gives those starting out in life the chance to put off paying up to 20% of the price of a brand new home.
For example, a two-bedroom apartment could be snapped up for an initial outlay of £115,960 with FirstBuy (open market price £144,950).
The remaining share is covered by the equity loan, jointly funded by Redrow and the Homes & Communities Agency. Crucially it's interest free for five years and can be repaid when the customer has more funds available or when they re-sell.
"Those who purchase a home with FirstBuy should be able to access some of the better mortgage rates, usually reserved for those with lots of savings. They may even find that their mortgage repayments are lower than the rent for a similar-sized property would be. It means that instead of asking if they can afford to buy, they should be asking if they can afford not to," Mary added.
The valuable help is available to first time buyers and those who want to return to home ownership. To be eligible for the help customers must have an annual household income of less than £60,000.
"Apartment living is great for those starting out in life and with a brand new Redrow home they won't need to compromise on style to afford a home of their own," Mary said.
"Open plan layouts maximise the potential of the space available and with integrated kitchen appliances included in the standard specification customers won't have to worry about buying and installing a microwave, oven and fridge freezer."
Eco-friendly measures, including solar panels, are included as standard in the new homes, which are also well-insulated, with energy efficient central heating systems and double glazing.
Sutton Woods is close to Mote Park and Maidstone town centre. A high speed rail service from Maidstone West station takes just 47 minutes to reach London St Pancras, during peak times on weekdays; while Maidstone East station offers journey times to London Victoria or Charing Cross of around an hour.
Price on the new apartments start from £144,950 and four-bedroom homes are from £249,950.
Visit redrow.co.uk for more information.

*Figures from the Office of National Statistics