Visit Munich and celebrate 200 years of German beer gardens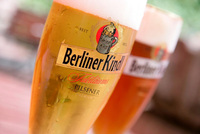 Munich is the beer capital of Europe and this summer sees the city celebrate the 200th anniversary of the law that allowed the city to open beer gardens.
This law came about as during the summer months Bavarians weren't allowed to brew beer and the beer that had been brewed during the winter was stored in cellars along the River Isar in the shade of chestnut and linden trees. These places became popular spots for people to sample the beer and in 1812 Kind Max Joseph I passed a law that let these places serve both beer and food - the birth of the beer garden.
Nowadays people can enjoy their favourite tipple and typical foods such as grilled mackerel on a stick; spit roasted chicken and pretzels in more than 180 beer gardens throughout Munich. People also often carry on the 19th century tradition of being allowed to bring their own picnic food if they wish and eat it in the beer garden.
Visitors to the city will be treated to a whole host of events in celebration this summer, as well as other highlights including the historic centre of the city, attractions such as the bold Baroque palace 'Schloss Nymphenburg' located in a beautiful park and many museums, theatres, bars and restaurants.
Specialist German Travel Centre are offering two-night city breaks to Munich from £249 per person including return flights from Heathrow (plus Manchester and Birmingham flights) accommodation on bed and breakfast in centrally located standard class hotel.
The German Travel Centre (germantravelcentre.co.uk) has been established for over two decades and has launched a new web site featuring 12 German cities: Berlin, Bremen, Cologne, Dresden, Duesseldorf, Frankfurt, Hamburg, Hannover, Leipzig, Munich, Nuremberg, Stuttgart. Each city has its own page describing the 'must sees' and attractions plus any diary highlights.The German Travel Centre are offering short break packages, family breaks as well as tailor-made holidays.
To check out the many beer gardens the city offers, visit 200yearsbeergarden.com.