A hassle-free way to secure a home in Woburn Sands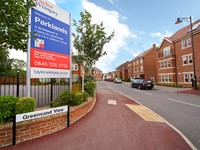 Everyone attending the event, taking place on Saturday 14th and Sunday 15th July, can find out all they need to know about the leading housebuilder's guaranteed part exchange scheme, which is designed to make it even easier to trade up to a spacious new home in Woburn Sands.
Steve Rolt, Regional Sales and Marketing Director for Taylor Wimpey, says: "It would be heartbreaking to fall in love with one of our properties in Woburn Sands only to find that it's been snapped up by someone else while you're struggling to sell your current home. Or worse, that you have an offer accepted and then can't proceed because there's a problem further down the chain.
"Thanks to our PX Plus scheme, all the uncertainties of the property market can be done away with in an instant, leaving homebuyers to enjoy a straightforward route to their brand new Taylor Wimpey property in Woburn Sands!"
With PX Plus, house-hunters can be assured of receiving a great price for their existing property, based on the average of independent valuations.
They are then free to market their old home for up to six weeks to try to achieve the maximum price – safe in the knowledge that they have a guaranteed buyer in Taylor Wimpey if it doesn't sell within that period. Plus, however the customer sells their home, Taylor Wimpey will pay their estate agency fees.
PX Plus is available now with a selection of family-sized homes at Parklands, including three-bedroom houses, priced from as little as £250,000, four-bedroom properties, priced from just £266,000, and five-bedroom designs, priced from £400,000.
Parklands is located just a mile from Woburn Sands town centre which offers a wide variety of everyday amenities including a large selection of shops, a Post Office, banks, a medical centre, a dentists' surgery, a veterinary surgery, a primary and middle school, a recreation ground, restaurants and traditional village inns.
Milton Keynes is six miles away, offering a wider choice of shopping and leisure facilities.
For commuters, the town's rail station is a short walk from the development, offering regular services to London and the north, and the M1 and A5 are both within easy reach.
The PX Plus Weekend takes place from 10am to 5pm on Saturday 14th and Sunday 15th July at the Parklands Sales Centre located at 21 Greensands View, off Station Road, Woburn Sands, MK17 8GR.

Visit taylorwimpey.co.uk for further information.