SuperPro Chrysler/Dodge rear anti-roll bar drop link bush kit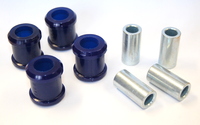 It's a well-known fact that SuperPro bushes can make a dramatic difference to the handling and precision of any recipient vehicle, making them the ideal choice to replace any worn or sub-standard OEM bushes. The latest kit from the Australian manufacturer will make a real difference to Chrysler's hugely popular 300C/Charger/Challenger/Magnum platform.
No-one expects rubber bushes to last for ever, but the factory rubber parts that reside in the rear anti-roll bar drop links on these cars seem to fail particularly early – in fact, after as little as 4,000 miles of gentle road use, the OEM bushes can perish and split, reducing the efficiency of the rear anti-roll bar.
The SuperPro parts have been carefully designed and precision manufactured to be a direct replacement and will restore the car back to a 'better than new' demeamour. Thanks to Superpro's unique polyurethane formulation, no additional harshness or vibration is felt in the cabin. The bushes simply press in and feature steel crush tubes for a perfect fit.
These four bushes form part of a complete set for this Chrysler platform, which can be bought either as a full kit, or piecemeal to suit the requirements and budgets of each enthusiast.
This kit retails at £36.27 + VAT
Visit superpro.eu.com for more information.