McCain Foods free book giveaway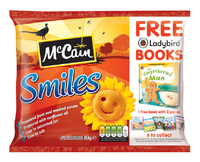 UK parents are being invited to revisit treasured tales of times past with a massive giveaway of classic children's books in supermarkets across the country.
More than 100,000 Ladybird books will be given away for free with packs of McCain Smiles this summer as part of a National Literacy Trust-supported campaign to encourage more parents to read with their children.
Research by Words for Life, part of the National Literacy Trust, shows that nine out of ten parents would like to spend more time developing their child's literacy skills, yet a shocking one child in three does not own a book.
Help is at hand with the set of six 'Treasured Tales' from Ladybird Books available to collect this summer. The series include much-loved classics such as Cinderella, The Three Little Pigs and Little Red Riding Hood and the beautifully illustrated books are great to read with younger children or for older, more confident readers to tackle themselves.
McCain Smiles is also lending a helping hand to mums with a new video showing how to make reading a fun and effortless part of the everyday routine. The fly-on-the-wall-style video captures the conversations of a group of mums, including National Literacy Trust representative Abigail Moss, as they debate the joys and challenges of reading with kids.
Visit mccain.co.uk/smilesfreebooks for more information and top tips.