New Lionhart alloy wheel range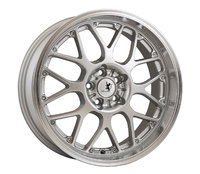 You're spoilt for choice with the new line up from Lionhart Wheels – the German vehicle fitment specialist wheel range from Wolfrace Wheels.
The five new designs, aptly named Dortmund, Munich, Stuttgart, Wolfsburg and Volks offer more than enough variety to fulfill any modified car enthusiasts wish list – classic and modern styles, dished and concave designs, various colour options and wheel sizes including an ultra-wide 9.5x18" that's more than capable of filling your VW's rear wheel arch.
The first of the five designs, Dortmund, is somewhat of a classic in VAG circles, a thatch design wheel finished in silver or gun metal with a finely polished dish and mock rivet detail. Dortmund is available in 8.0x18" in five stud fitments to cover the latest generations of VW, Mercedes and Audi.
The second, and some might say the pick of the bunch, is the Munich – another thatch style design finished in gun metal with alternate polished spokes. With the spokes stretching right to the edge of the rim, you won't find a dish on this design, but with a size range of 8.0x18" and 9.5x18" you will find an extreme width and concave face. A range of five stud fitments are available. Do you dare to fit 9.5x18's all round?
Stuttgart, the third of the five new Lionhart wheels, firmly ticks the 'deep dish' box with a full 2.5" depth. The Stuttgart size range is 8.0x18" and 9.0x18" making this wheel is a great choice if you require a staggered set up.
Finished in Gloss black with a polished lip and available in five stud fitments.
Last in the new lineup, Wolfsburg and Volks, are two contemporary designs in a popular black and polished paint finish. Wolfsburg is a stunning new five spoke design that manages to deceive the eye and appear larger that its 8.0x18" size, whilst a contemporary take on the split five spoke design makes the Volks the head turner of the bunch – also available in 8.0x18".
Suggested retail prices are:
Dortmund 8.0x18" £123.95
Munich 8.0x18" £123.95 9.5x18" £142.95
Stuttgart 8.0x18" £132.95 9.0x18" £139.95
Wolfsburg 8.0x18" £123.95
Volks 8.0x18" £132.95
Lionhart wheels have been specialising in German vehicle fitments for over five years, all Lionhart wheels are suitable for the latest generations of VW, Audi and Mercedes and are available with a comprehensive 12 month warranty – register for your warranty at www.wolfrace.com
All Lionhart wheels can purchased from any of the 500+ Wolfrace dealers throughout the UK, use the dealer locator on wolfrace.com to find out which dealers are nearest to you.