Audi counts the cost of business travel with Mileage Tracker App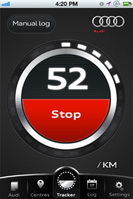 A new free-to-download Audi app for the iPhone is set to make business travel a little less taxing by tracking journeys via GPS and precisely calculating the business expense they generate.

Available from iTunes, the Audi Mileage Tracker app enables business users to enter the amount normally claimed per mile or kilometre, and to apply this to a particular journey, which is logged in real time using GPS mapping. At the end of the journey the exact amount owed as a business expense is recorded, and can be transferred to a spreadsheet showing all the applicable trips taken over a given period. This can then be emailed to a home or business computer for expense claims.

Drivers can programme the app with journeys they take regularly and recall them from the journey log, or use the start/stop function each time they leave the office. The app can even point them in the direction of their nearest Audi Centre if they need expert assistance. As the exact route taken is tracked, regardless of diversions due to roadworks or congestion, the calculation provided is always absolutely accurate.

Detailed information on the Audi model range from a business user perspective can be found by clicking on the 'Fleet sales' tab at audi.co.uk.