Blur to play special live performances for 6 Music and Radio 2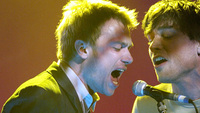 On Tuesday 31 July ground-breaking British group Blur will perform at the BBC Maida Vale studios in London for BBC Radio 6 Music and BBC Radio 2.
As part of this special event, free audience tickets to each of the shows are being offered to Radio 6 Music and Radio 2 listeners.
In their 21st anniversary year, Blur will perform for each station from their award-winning back catalogue, which spans over two decades.
From 4pm on 6 Music, presenter Steve Lamacq will be chatting to the band live and asking how they feel as they prepare for bringing the curtain down on the 2012 London Olympics in Hyde Park next month. They will also perform a unique session.
At 8pm coverage continues on Radio 2, where the band will perform an hour-long concert in front of a live audience.
Details on how listeners can apply for tickets to the 6 Music session can be found at bbc.co.uk/6music. Radio 2 listeners can tune in to Jo Whiley on Monday 16 July (8pm-9pm) when she will be announcing details about how they can be part of the Radio 2 audience.
The Blur session on Steve Lamacq's show will be streamed live on the 6 Music website and the Radio 2 performance will also be available to watch live on the Radio 2 website.
Jeff Smith, Head of Music at Radio 2 and 6 Music, says: "This year marks a huge milestone for Blur as a band. The contribution they have made to the history of British music cannot be underestimated. Their live performances are truly fantastic and I can't wait to hear them perform on both BBC Radio 6 Music and BBC Radio 2."
Blur were a vital part of the Britpop genre in the Nineties and since releasing their first album, Leisure, in 1991, they have had massive success with albums including Parklife and 13, winning numerous awards including an Ivor Novello. Most recently, they received the Outstanding Contribution to Music awards at the 2012 BRITS.