Katharina Kuhlmann joins the Auto Club Revolution team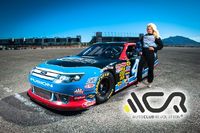 The Auto Club Revolution team has been joined by an expert car tuner, racer and all round car fan. From now on, Katharina Kuhlmann – model, TV presenter and car enthusiast – will be in regular contact with the Auto Club Revolution community and proving a real challenge on the tracks.
Being elected Miss Tuning World in 2003, Katharina Kuhlmann is a true petrol head. As a model and TV presenter, she regularly showcases her expertise when it comes to fast cars and tuning them. She also helps fans keep their cars looking visually stunning with her own range of special paints from KK Colors, her KK's Shine premium car care products and her unique painted design effect wrapping films: KK Cocoon.
"I love fast, loud cars and I love the smell of burnt tyres. I go crazy when I race on virtual tracks and I love beating the competition" says Katharina Kuhlmann about her new commitment to Auto Club Revolution.
"Having Katharina Kuhlmann on board for Auto Club Revolution, we're sure she'll win the hearts of our players in no time with her in-depth knowledge of tuning and racing real cars," says Christian Szymanski, Head of Marketing for Auto Club Revolution. "Being a social platform for car enthusiasts, Auto Club Revolution is the perfect place for Katharina to connect to the community. It's also the perfect place for her to show off her driving skills, as Eutechnyx work very closely with manufacturers to provide an authentic online racing experience."
Auto Club Revolution players will have the chance to meet her in-game on Sunday at 17:00PM (BST) for the first time. Before that happens, players can try out our newly launched track: Victoria Harbour Quayside. Quayside is the perfect track to show off your drifting skills, and with her DriftQueen 69 (modified Nissan 350Z), this track is sure to be a 'must-race' for Katharina Kuhlmann.
Auto Club Revolution is a free-to-play online racing game and car community built in collaboration with the motor industry. Featuring officially licensed cars from over 50 of the world's leading motor manufacturers, it delivers a console quality racing experience to the free-to-play market while providing a social platform for owning, customising and enjoying cars online. The game features a wide range of custom and licensed race tracks including Silverstone and Circuit de Spa Francorchamps.
Players can register at autoclubrevolution.com and directly race with their first free car.