SuperPro roll centre correction kit for Evo and Impreza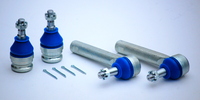 Although best known for its precision-manufactured range of polyurethane bushes, Australian chassis guru SuperPro has continued to develop exciting new suspension components under its 'Roll Control' banner; the latest of which are these roll-centre correction kits for the Evo and Impreza.
These latest additions to the range are kits the for Mitsubishi Lancer Evolution models from VII – X and all models of the Subaru Impreza, right through from the 1993MY Classic all the way up to the 2011MY cars.
These kits address a fundamental issue created when looking to enhance handling. Car suspension systems have a roll centre set by chassis engineers in the design process of a vehicle to give optimum handling with minimum body roll at the required ride height and centre of gravity position. The vehicles roll centre greatly influences how the body of the vehicle will behave when cornering and is one of the key factors in how a car 'feels', telegraphing feedback to the driver. When the ride height is changed, by say the fitment of uprated suspension, the roll-centre characteristics are too.
Contrary to popular belief, lowering a vehicle does not on its own always necessarily improve handling. For example, if a vehicle is lowered beyond its ideal roll centre, faster and greater levels of body roll can be generated, resulting stability and traction being adversely affected.
The extended ball joints included in these kits compensate for changes in suspension geometry when ride –heights are lowered, counteracting the effects of the resulting repositioning of the cars roll-centre. Consequential bump-steer issues that could be caused by extending the ball joint are corrected by the new track rod ends which are also included in the kit. The overall effect is to restore stability and traction by achieving better tyre contact, as well as making the car more neutral and obedient to driver inputs.
Each kit includes a pair of ball joints and a pair of track rod and each application retails at £129.00 plus VAT. Available from authorised SuperPro stockists.
Visit superpro.eu.com for more information.