Taywell turns Japanese to spice up Feng Sushi's desserts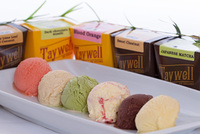 Artisan ice cream and sorbet maker Taywell has joined forces with Japanese restaurant group Feng Sushi to create a range of deliciously distinctive dessert concepts that are guaranteed to get diners' taste buds tingling.
The flavours – which include the exclusive Kaffir Lime Leaf & Coconut ice cream, Sweet Chestnut ice cream and Dark Chocolate & Wasabi sorbet – are the result of a close collaboration between Kent-based Taywell and Feng Sushi, which operates eight restaurants in central London.
Taywell Managing Director Alastair Jessel and Silla Bjerrum, his counterpart at Feng Sushi, met for the first time earlier this year at an event hosted by the Sustainable Restaurant Association (SRA) at No 10 Downing Street – and they quickly realised that they shared a vision about food. Taywell is one of the SRA's first approved suppliers, while Feng Sushi is a member of the association and has a stated commitment to serving ethically sourced food with the least possible impact on the environment.
The two hit it off straight away, and Silla later visited Taywell's kitchen in Paddock Wood to start work on developing ice cream and sorbet recipes that would reflect the cuisine served by Feng Sushi in its restaurants.
The result of the partnership has been the creation of an unusual but mouth-watering range of desserts, which also includes Matcha Green Tea ice cream and Blood Orange sorbet. The two companies are now in the process of working on further ice cream varieties, including Black Sesame and other seasonal flavours – which will be exclusive to Feng Sushi.
Silla said: "Everybody loves ice cream but we wanted ours to reflect our commitment to sustainability as well as taste, so were very excited when we discovered Taywell. I quickly arranged a trip to Paddock Wood to find out more about its products and was totally convinced by what I saw and heard and immediately got involved in creating the distinctive flavours you can now find at Feng Sushi."
She continued: "I was impressed by everything Taywell has to offer. Firstly, it uses local milk and 40% cream – the next level up from double cream – with egg yolks to achieve an exceptionally smooth texture. Taywell uses only natural sugars and 100% fruit, as well as the highest quality Belgian chocolate, coffee and nut oil. In addition, it uses only 12 to 15% air. Cheaper brands can use up to 250% air to bulk out their products."
Alastair said: "We were really excited to get the opportunity to work with a restaurant business like Feng Sushi, which shares our values in terms of prioritising freshness, quality, sustainable sourcing and innovation. I'm confident the special recipes we've created for Feng Sushi will add spice to its dessert menu and really get its customers' mouths watering."
Taywell's extensive range of premium quality, handmade, luxury ice creams and sorbets is available nationwide through wholesalers, including Costco. Taywell also operates an online home and office delivery service in London and across the Home Counties.
Taywell recently invested £200,000 upgrading its manufacturing and storage capacity following a sharp increase in sales. The company's turnover rose 70% in the last financial year (ending 1 November 2011) and is on course to double in the current year off the back of several new business wins over the past 12 months.