New Marco Pierre White restaurant to open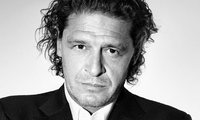 The new Marco Pierre White restaurant in Nottingham will officially open on 23 July.
Located at Alea on Upper Parliament Street the new restaurant is called the Marco Pierre White Steakhouse Bar & Grill and comprises everything one would expect from a traditional steakhouse but with the superior quality synonymous from arguably Britain's greatest chef.
Regarded by many as the godfather of modern cooking, the fiery chef, famed for his no-nonsense approach and Michelin-star food now hopes the people from across the East Midlands will enjoy his style of dining.
Commenting on his new restaurant Marco said: "I'm delighted with my new restaurant and being able to bring my vision of dining out to Nottingham."
With the entertainment venue's restaurant having been fully refurbished the décor creates an intimate venue where guests can relax in comfortable, glamorous surroundings. Added to the lively atmosphere, exquisite food, delicious cocktails, the new restaurant will, it is planned, become the perfect venue for any occasion.
Marco added: "To me the most important aspect of any restaurant is the welcome on arrival. It's the environment you sit in and the service that you're given so we've been careful to make sure the new restaurant reflects that.
"The food plays a very important role. It doesn't have to be the finest because if I'm honest a lot of my favourite restaurants don't serve the greatest food in Britain but they serve very good food at a very good price."
Overseeing the food will be new head chef Richard Donohue, 27, who has been put in charge of the eatery. The former Clarendon College student is hoping his experience and passion for food will make the restaurant a must for foodies.
Hors D'Oeuvres include Six month cured 'Coppa Ham' Mostarda Di Cremona, Crispy Fried Calamari, Sauce Tartare and Beetroot & Goat's Cheese Salad, Walnut Dressing while the main courses will have a selection of traditional classics from the fish main board, grilled and roast meats and beef. Puddings will be just as tantalising including Box Tree Eton Mess, Cambridge Burnt Cream and Classic Bitter Chocolate Mousse.
Marco said: "I've said many times that the future of dining out is affordable glamour. I think it's important to make the environment glamorous and friendly and I think it's important to make food affordable – really important because today my favourite restaurants are those that have a cross sector of society in them.
"It's also the way they look after the family. When a family walks into a restaurant you have to be able to accommodate them, to look after them and deliver all their needs."
Mark Hands, venue director at Alea added: "We're absolutely thrilled to have someone of Marco's calibre open one of his restaurants at Alea. It clearly demonstrates our commitment to continually bring the best to the venue and we're delighted to be open.
"For Marco one of the most important aspects of any restaurant is the welcome on arrival, the environment customers sit in and the service that they're given so we've been careful to make sure the new restaurant reflects that.
"We're now looking forward to welcoming guests and letting them enjoy dining in this fantastic new restaurant."
For further information, visit
nottingham.aleacasinos.com/restaurant-details/marco-pierre-white-steakhouse-bar-grill