Be quick off the blocks for tours built round Chocs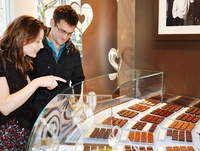 Escape the Olympics, or fill in time between your Olympic spectator slots, by giving in to your inner chocoholic and booking yourself on to a unique chocolate-focused, truly yummy experience with Chocolate Ecstasy Tours.
Chocolate Ecstasy Tours have created chocolate tours to drool for, which lead the chocolate lover through the streets of London to secret havens in which hugely talented chocolatiers ply their artisan trade.
The tours run all year round, but during the Olympics there are Mayfair Chocolate Tours on July 28, August 4 and August 11 and Chelsea chocolate tours on August 5 and 12.
Each tour sees up to 12 people being expertly and sweetly guided to cherry-picked venues at which they can learn, indulge their senses, sample and enjoy VIP discounts, should they be tempted to buy any of the delights they see and taste.
Every tour starts with a hot chocolate, just to get the 'chocolatees' in the mood and hungry for their next choccie fix! The Mayfair Tour introduces and explores more traditional chocolates and the English chocolate heritage, so is ideal for foreign visitors wishing to appreciate England's love of all things chocolate! This includes tasting the favourite chocolates of Queen Elizabeth II and author Roald Dahl, during the three-hour tour.
The Chelsea Tour is a 3-3.5 hour chocolate extravaganza mapped out across the streets of Chelsea and Knightsbridge. This explores the origins of chocolate, as well as modern chocolate trends and allows chocolate lovers to broaden their knowledge of their favourite treat! Here, they will visit cutting-edge British and French chocolatiers and sample award-winning chocolates, including sea-salted caramels.
The Mayfair tours start at 10am in Conduit Street and the Chelsea Tours start at 11am in Ebury Street, Pimlico. Mayfair tours cost £40 pp and Chelsea tours £45pp. All can be booked at chocolateecstasytours.com.
Those wishing to book a private, customised tour for their party visiting London for the Olympics, or just looking for a celebration for a London-based group, should call 0203 432 1306 to explore their options. The minimum group size is four, ideal for two couples or a couple with older children, and the maximum is 13 including group organiser.