It's fiesta time In Andalucia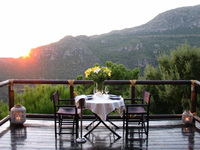 If the Diamond Jubilee and Olympic fever have whet your appetite for street parties and celebrations, where better to head this Summer than Andalucia. Synonymous with flouncy flamenco, clicking castanets and the romantic strumming of classic guitars, this part of South West Spain enjoys more than 3,000 fiestas and festivals a year with some of the brightest and best being held during the summer months of July and August.
To capture the true spirit of authentic Andalucia, join the locals in their colourful celebrations – and then contrast the hurly burly of the street spectacles with an escape to a luxurious oasis of calm and tranquility. Look no further than the pretty hilltop pueblo blanco of Casares, where you'll find chic boutique DDG Retreat the perfect bijoux bolt-hole to avoid the madding crowds, yet well located to join in with the festive fun when the mood takes you.
If guests are quick off the mark, there's still time to combine the festivals and The Olympics with a stay whilst the Games are on – and why not go for gold and take advantage of a special 10% discount for stays between 27th July and 12th August, plus there'll be a bottle of champagne waiting on arrival.
Soak up some sunshine with a generous helping of Olympic spirit whilst doing nothing more energetic than lounging in a hammock, taking a dip in a stunning infinity pool, relaxing and recharging in a private casa or indulging in a sumptuous spa treatment. If you're inspired by all that sportsmanship, enjoy a gentle game of tennis at the Retreat's own court taking in some spectacular views - or explore nearby cycle paths with free bike loan and route guidance courtesy of owners Alex and Olga.
For those wanting to keep an armchair eye on who's winning what, there'll be a dedicated Olympic viewing area where guests can watch the Games on the Retreat TV. And in keeping with the chilled ambience, guests won't even have to move from their seats to top up their drinks as the team will be on hand to ensure there's no distractions from the task of cheering on the national teams.
Once the Games are over, guests can head off to join in the fiesta fun. One of Andalucia's biggest and best is the famed Malaga Feria, that runs between 12th and 21st August. Attracting an international audience, the resort fills with life during the day and moves off to the fairground area by night.
Slightly closer to home are the Velada De La Almoraima festival on 27th and 28th August and horse-racing that runs at Mijas through July to 26th August. But there's no need to wander far to see smaller scale fiestas taking place on a regular basis. The Retreat's Alex and Olga are always happy to advise.
DDG Retreat is made up of just 5 individually-designed casas and a villa. Nestling amongst natural woodland in the hills overlooking the Mediterranean with views out to Gibraltar and the mountains of North Africa, the Retreat is a perfect hideaway for couples seeking a romantic break, rest and relaxation or a getaway to celebrate a Special Occasion. Fully opened only last year, the Retreat offers a touch of luxury combined with seclusion and tranquility yet is perfectly located for exploring Andalucia and the Costa Del Sol.
Prices start at £75 per person during High Season based on 2 sharing Casa Cipres on an accommodation-only basis and excluding flights and meals. Further information and prices are available online at ddgretreat.com.