Summer washout leaves many at risk of Vitamin D deficiency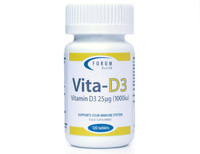 As autumn follows a summer bereft of sunshine, 1 in 6 of us are already at risk of suffering a severe deficiency of vitamin D with many children at risk. Taking a vitamin D3 (cholecalciferol) supplement - such as Vita-D3 can help counter the effects of vitamin D deficiency of those most at risk such as children, young adults and the elderly.
Vita-D3 is an easy to swallow supplement containing 1000 IU of vitamin D3 per tablet. It contains the Vitamin D essential to aid the absorption in the gut of calcium and phosphorous from food to build strong bones and teeth. It can also support the immune function.
Also known as the 'sunshine vitamin', a 20-minute exposure to sunlight 2 - 3 times per week in the UK is usually all it takes for fair-skinned person to replenish their supply of vitamin D. Older people whose skin is thinner and children wearing high sun protection factor creams (SPF 15 and above) may not receive the amount of UVB radiation necessary. Ethnic minorities are more susceptible to vitamin D deficiency because darker skin doesn't absorb it as efficiently in cooler climates and those with pigmented skin or who need to wear particular clothing for cultural reasons may also be missing out.
Less than 10% of vitamin D comes from food. Omega-3 rich foods, such as oily fish, egg yolks and fortified spreads and cereals contain some vitamin D but not enough, which is why Vita-D3 is ideal.
Each small tablet is free from yeast, soy, gluten and dairy products - ideal for even the most sensitive. The recommended dose is one tablet daily and each pack of Vita-D3 has a four month supply.
Visit forum-health.co.uk for more information.