Secure a new home in Romford with a 5% deposit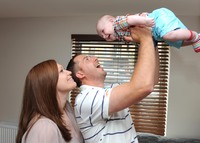 The FirstBuy scheme makes it easier for first-time buyers like Amy Waring and Raymond Petchey to secure their place at Reflections, Taylor Wimpey's development of apartments in Romford.
When a life-changing surprise meant Amy and Ray (both 27) needed to step on the property ladder sooner than they had expected, the FirstBuy scheme offered them a helping hand at Taylor Wimpey's Reflections development of flats for sale in Romford.
Amy and Ray were saving to get married when they found out they were expecting their first child, and from that moment buying a first family home in Romford became the number one priority.
With the hefty downpayments required by many mortgage lenders out of their reach, Amy and Raymond were relieved to find that FirstBuy allowed them to secure their ideal apartment in Romford with just a 5% deposit at Reflections.
"We were living with our respective parents while saving to pay for a wedding," says Amy. "Then, last year, we found out that I was pregnant. This news came as a big shock – all of a sudden we had to postpone our marriage plans and start looking to buy a property in Romford.
"Because we had not planned to buy a home, we didn't have much money saved for a deposit, so we knew that FirstBuy was our best chance of stepping on the property ladder.
"FirstBuy offered us an affordable way to become homeowners. Without the scheme, we could never have bought our own place."
Under FirstBuy, first-time buyers like Amy and Raymond are able to secure stylish properties at Reflections for just 80% of their full price, including 5% deposits as low as £7,050.
"The buying process was easy, we visited the development and then we registered for FirstBuy," says Amy. "Now, just a few months later, we are homeowners."
"We've got a two-bedroom apartment that's on the ground floor, which is really practical because of our four-month-old son, Oliver. Plus, there's a spacious terrace area outside for us to enjoy when the sun is out.
"Having our own home is really great – this is the first time we have lived together and it is lovely spending time as a family."
One-bedroom apartments are currently available to qualifying first-time buyers under FirstBuy at Reflections for just 80% of their full price – that can be as low as £112,796, including a 5% deposit of only £7,050.
FirstBuy works through a joint loan of 20% from the Homes and Communities Agency and Taylor Wimpey. The loan is repayable at the end of the 25-year mortgage term or when the property is sold. To be eligible, purchasers must be first-time buyers and their total household earnings should be less than £60,000.
The new homes at Reflections enjoy a fabulous position close to the heart of Romford, with The Mall and The Liberty shopping centres on the doorstep. Meanwhile, The Brewery retail and leisure centre offers a multiplex cinema, health and fitness club, bowling alley, restaurants and bars, in addition to Kidspace, Europe's largest indoor play area.
Just a short walk from the new apartments is Romford station, which puts London's Liverpool Street Station just minutes away by train – and the capital's wealth of theatres, bars, shops and thousands of jobs within easy reach.
Visit taylorwimpey.co.uk for further information.