Popularity of new homes in Rugby builds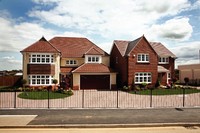 With 15 sales in as many weeks, Redrow's Cawston Grange development in Rugby has been a huge success.
A desirable location, good access and essential services close at hand have all contributed to Cawston Grange's popularity, but recent research conducted for RIBA (Royal Institute of British Architects) suggests that the design of the homes is equally important.
Pauline Turnbull, sales director for Redrow Homes (Midlands), said: "We were very interested to read of RIBA's survey as their results echoed a lot of our own findings prior to introducing The New Heritage Collection which features at Cawston Grange.
"Like RIBA, we found that homebuyers are influenced by the homes they lived in previously and want a home which has 'period' features, but is practical too. That is the ethos on which New Heritage was founded. Our Arts & Crafts inspired exteriors give people the period style 'character' they want and often remind them of the home they grew up in as children."
Inside too, Redrow believes its homes already offer many of these things that RIBA says people want and need from their home.
Pauline continued: "The survey highlighted that people want a large main living area for eating, entertaining and relaxing and the convivial open plan layouts of our homes ticks that box. Another must-have is space for essential household items; our homes include a laundry or utility room to keep the washer and dryer out of the kitchen, as well as providing additional cupboard space."
With so much in their favour it's no wonder the homes have been selling fast – at an average of one per week since March.
The first residents have now moved in and interest in the homes continues to build as the development begins to take shape.
The homes at Cawston Grange are close to Rugby town centre ensuring that residents' needs are well catered for. There are schools nearby making the homes well placed for those with families; while excellent links to the M45 and M1 also make them ideal for commuters.
Current availability includes a choice of four and five-bedroom detached homes, with prices from £264,995 to £414,995.
They boast kitchens that are stylish, practical and well-equipped, with integrated top brand name appliances such as oven, fridge freezer and microwave included as standard and tall cabinets and extra wide drawers which offer plenty of storage. Bathrooms and en-suites enjoy quality fixtures and fittings, with a tile range that's exclusive to Redrow.
Visit redrow.co.uk for more information.