Pipercross Ford Capri free-flow direct replacement filter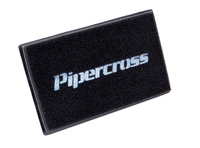 Performance filtration specialist Pipercross has provided the perfect breathing solution for owners of the grunty 2.8 Injection Capri; a hand-fabricated, free-flowing replacement panel filter.
The Pipercross filter is a direct replacement for the OEM part on these models, maintaining originality whilst improving performance. The torquey 6-cylinder is a great recipient for breathing mods, and this filter is the ideal first step.
Designed to fit into the factory airbox as a direct replacement for the factory paper unit, The Pipercross filter has been designed up to a desired quality, rather than down to a designated price. Flowing over 30% more air than the OEM part, this beautifully made component can make significant improvements in power, torque and driveability and comes with a full lifetime warranty to give decades of faithful service. This improved flow rate can also give a marginal fuel saving, which can quickly add up on a vehicle with the prodigious thirst of these cars.
The unique multi-layered foam construction not only means a higher rate of flow, it also mean that, compared to even the leading cotton-gauze replacements, Pipercross foam filters can go for up to three times longer before needing any servicing or cleaning. This can be done indefinitely for the life of the filter.
The filter is part of an extensive range of filters that Pipercross makes for classic Fords, covering almost every '70s, '80s and '90s car to roll out of Ford's European factories.
The Capri 2.8i filter (part number PP38) is priced at just £35.99 including VAT, it makes the perfect first modification for any cherished 'big' Capri, and flows stronger.. for longer!
Visit pipercross.com for more information.