Wood flooring with high gloss and vintage finishes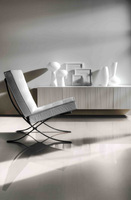 Kahrs has introduced a wide range of new designer finishes throughout its wood flooring ranges. The new on-trend designs feature a variety of lacquer and oil finishes, used alongside striking coloured stains and textural finishing treatments.
For an on-trend, high gloss finish, Kahrs new Supreme Shine Collection includes eight wood floors available in a spectrum of shades - from Beech Opaque; with its high shine white semi-transparent finish, to Ash Black Silver, which has a dramatic metallic stained treatment. Also part of Kahrs Supreme range, the new Da Capo Collection offers a contrasting rugged look. Each one-strip floor is brushed, handscraped, bevelled and smoked to achieve a distinct vintage feel, whilst different tones of nature oil prefinish give a spectrum of shades, from limewashed Oak Indossati to knotty, nut toned Oak Sparuto.
Other designer finishes are featured throughout Kahrs Original and Linnea Ranges, with many new, individual products joining the collections for 2012. Rich tropical-look floors also feature within Kahrs World Collection, which includes temperate alternatives crafted from sustainable oak.
Throughout Kahrs ranges, all surface finishes are solvent-free and are applied in several thin layers, to provide durability without altering the wood's appearance. All floors are easy to maintain and quality formulations ensure that lacquers, oils and stains do not discolour over time. Meanwhile, Kahrs eco-friendly, multi-layered construction and glueless Woodloc joint provide additional benefits, including a fast installation and stability in all climates.
Visit kahrs.com for more information.