Tips for dating in a high-tech world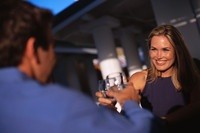 Top tips for what to do and not do on a first date used to relate to advice such as eating with your mouth closed and remembering to offer to pay a share of the bill. According to London-based singles and socialising membership club, Dinner Dates, all of that has changed, thanks to the advent of gadgets and the growth of the internet. A whole new set of rules are now in play.
Dinner Dates should know. Having organised exciting events for members 6-10 times a month over the last 23 years, it has seen trends in dating come and go. Nothing has changed the face of dating more than technology and, in a world in which we cannot live without our smart phone and in which we are hooked to social media sites, paying attention to our friends and new acquaintances is becoming increasingly hard, according to Dinner Dates' chief executive, Cynthia Spillman.
Despite this, many Londoners of all ages are desperate to meet that special someone, so Dinner Dates has helpfully put some golden rules together for the 2012 dater. Check them out, even if you are in a relationship, because you could just be annoying the pants off your other half and need to put things right … fast!
Dinner Dates' Golden Rules For Dating In a High-Tech World!
1) Do not text or check your phone repeatedly during your date. It will signal a total lack of interest in the person you are with.
2) Don't play with your phone .. it's a sure sign you are on edge and uneasy in the company of your date.
3) Don't boast about the number of fans you've got on Facebook .. nobody likes a big-head and it's quality, not quantity, that matters!
4) If you must leave your phone on, make sure you've taken it off its embarrassing ring tone and that you don't have a photo of your ex as its screen saver!
5) Do not lie about your date of birth, particularly if you've stated your real date of birth on your Facebook or Linkedin profile!
6) Do not tell your date that you've been googling them ….. nobody likes a stalker!
7) Do not keep taking photos on your phone and tell your date that you simply have to do this to keep your Facebook page up to date!
8) Do not tweet, blog or post an account of your date on any of your social media sites after the event … and do NOT video your date's wiggle or swagger as they head to the loos, just so you can load it up to YouTube!
9) Make sure you never tell a dinner date of the really good calorie counting website that they should check out – unless you want your face slapped that is!
10) Do not scan the menu's QR code to download it, claiming you should find somewhere cheaper for the next date and need to recall the prices!
Dinner Dates' chief executive, Cynthia Spillman, says: "Many people, particularly those under the age of 40, have simply forgotten the simple etiquette of showing interest in the person they are with, or being polite at the table. Many of us have become socially dysfunctional thanks to technology, as well as being pretty obsessive about using it. Facebook users, on average, spend over 15 hours a month on the site. Given that this is often in their free time, their date is competing with Facebook for attention – and all too regularly loses out!
"My top tip is for the person arranging the date to deliberately pick a venue at which there is no internet or phone signal. Then, if you must defer to technology because you are getting withdrawal symptoms, do a Michael Caine and drop in a "Not many people know that" fact, such as that Al Pacino's image was on the original Facebook page! At least that shows a bit of knowledge, rather than just an obsession with keeping in touch with people at a distance, rather than face to face over a table!"
Anyone wishing to give Dinner Dates socialising a bash, or go along to an event to get Cynthia's further guidance on correct dating etiquette, can head to dinnerdates.com. Dinner Dates events are fun to attend and all about expanding your social circle, as the more people you meet, the more likely it is that you will meet someone significant.