Sliderax commercial vehicle roofracks - Swift, safe and secure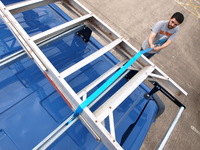 The Sliderax modular commercial vehicle roof-rack system looks to set new standards of safety and security in its sector, thanks to an innovative, patented design that exceeds all 'Working at Height' Health and Safety regulations.
The system's design is as clever as it is simple. Precision-fabricated from tough anodised and powder-coated steel, the system bolts robustly to the recipient vehicle's roof mounts quickly and easily. The flexible nature of the system allows vans and commercials of all sizes to be equipped. The trump card of the Sliderax system however, lies in its ingenious sliding track design, which allows a lone individual to tightly secure loads of any shape or size, without the need to use steps or ladders.
The securing straps that come with the system use a wheeled bracket. This is simply inserted into the track on one side and then pulled tight across the load. This can all be done easily and safely at ground level, eliminating the need to use some kind of step, as is often the case when tethering loads at this height. Once the strap is pulled tight, the load is secured via a traditional ratchet strap which slots easily into the bracket on the opposing side – making for a totally safe and unmoveable solution.
As well as being significantly safer than all traditional tethering solutions, the Sliderax system is also considerably faster – essential for busy tradespeople looking to maximise their time and efficiency.
Most core commercial vehicle fitments are covered, including the Mercedes Vito, Ford Transit and Connect, Vauxhall Vivaro, Nissan Primastar, Renault Traffic – and of course, VW's perennial T4 and T5 Transporter. All tools needed to fit the bars come with the kit and prices start at just £160 + VAT for a 2-bar system (Mercedes Vito).
Whether you're looking to make loading your commercial vehicle safer, swifter or more secure – or indeed, all three, Sliderax is the perfect solution. Perfect for everyone from sole traders looking to do the job properly through to fleet managers with an eye on a perfect HSE record... Sliderax gets the job done!
Visit slide-rax.co.uk for more information.