Samsung MV900F MultiView SMART Camera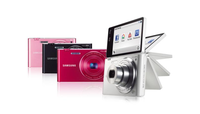 Samsung has announced the latest addition to its range of Wi-Fi enabled SMART cameras; the MV900F. Following the success of Samsung's MV800, the MV900F also features Samsung's innovative 180 degree Flip-out display, making it easy to capture and share self-portraits from any angle.

The MV900F captures beautiful images even in low light conditions, it features a F2.5 bright lens and 16.3M pixels BSI CMOS sensor, as well as a wider 25mm lens for fully framed images. This combination of design, creativity and connectivity ensures the MV900F shows everyone at their best.

Nick White, Head of Digital Imaging, Samsung Electronics UK and Ireland, said "The MV900F is another example of Samsung's dedication to creating innovative and high quality products which benefit the consumer. The SMART technology combined with the unique flip out display makes this camera one of a kind."

Innovative features for easy group shots and self-portraits
Using Samsung's innovative 3.3inch, 180-degree Flip-out display, the MV900F allows users to capture and frame images from any angle, whether you're looking to shoot large groups of friends or even full body shots to show off your whole image.

Even when subjects aren't ready for their close-up, the MV900F has a range of functions to create professional beauty shots. A virtual make-up bag, Samsung's new Beauty Palette feature allows users to choose from ten different make-up options to smooth, brighten and add colour to their personal profile shots.

Additionally, to make it easy to shoot self-portraits or group shots, Samsung's unique Gesture Shot uses motion-sensor technology so that you can control the camera remotely through gestures alone. To control the camera's zoom functions users simply make a circular motion with their hand. When the shot is ready to be taken, just move your hand up and down to capture the image.

Designed for all Conditions
To ensure photos are looking their best, the MV900F guarantees superb image quality even in low-light situations. Featuring a 16.3M BSI CMOS sensor and bright F2.5 lens, the MV900F allows images shot in dimly lit conditions to retain detail, without the bleaching effect of artificial light. Working alongside these features, the Low Light Shot mode automatically selects the camera's best setting for low light conditions. By taking three continuous shots and merging them together into one, this feature creates an image free from the blurs and noise which can often accompany low light photography.

Additionally, for shots that leave nothing out of the picture, the MV900F features a wider 25mm and brighter F2.5 lens with x5 optical zoom, making it the ideal companion for nights out or holidays.

Not only does the MV900F deliver in low-light settings, it is also designed for ease of use in the brightest sunlight. The MV900F's upgraded display boasts a 3.3" WVGA AMOLED touch display for seeing clearer images even in bright light.

Share life instantly
A new addition to Samsung's SMART CAMERA range, the MV900F features the latest in Wi-Fi functionality, allowing instant connectivity with social networks and devices. At a touch of the SMART LINK button, or through the easily navigated touch screen, it is easier than ever to instantly share and store pictures, without the need for cables.

With a range of wireless functions users can transfer images to their phone with Mobile Link, easily save to cloud services or upload to social networks and email for instant sharing with the world.

Create, Play and Share with Added Creative Options
Boasting 1920 x 1080 Full HD video recording at 30fps, the MV900F creates movies that are worth sharing. Combining the best of still photography with dynamic videos, the Motion Photo feature cleverly brings subjects to life. Subjects can now become the centre of attention, as they appear to wave from a crowd or busy street whilst time stops around them.

Available in a range of four stylish colours -white, black, pink and red - the MV900F suits any style and is designed to turn heads wherever it goes.

For more detailed information, visit Samsung microsite: samsung.com/MV900F.