Fiat Ducato to transport Helphire Group forward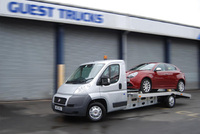 Accident assistance specialist Helphire Group plc, has just taken delivery of the first of 50 new Euro 5 Fiat Ducato-based transporters as part of its fleet replacement programme. The first vehicle is scheduled to go into active service at its Leicester depot this week.

The company, which has its head office in Bath, has specified 50 Fiat Ducato 33 B2B chassis 2.3 130bhp MultiJet II Euro 5 transporters built by UK industry experts KFS Special Vehicles Ltd. The vehicles will be supplied by Fiat Professional dealer, Guest Truck & Van Centre in Birmingham, which enjoys a very strong relationship with Helphire Group plc. All the transporters - in metallic Aluminium Grey - will be used to transport the Group's vehicles throughout the national network of over 20 branches and four operational contact centres across the UK.

The KFS converted Ducato-based transporters come with a generous standard specification and include aluminium deck and bearers, load tested loading ramps, recessed tie rings and a maximum payload capacity.

In addition, all transporters will be equipped with options including metallic paint, dual passenger seat, extended wiring loom, uprated battery, normal size spare wheel and a Techno dash board.

Tim Bailey, Fleet Services Director, Helphire Group plc says: "Running a fleet of over 8,000 vehicles and needing to move them from A to B, more often than not one car at a time, creates a number of challenges for us. Our fleet ranges from the smallest cars right up to the top of the range prestige and sports vehicles, so ensuring we have sufficient flexibility and maximum load weight on any transporter is essential.

"We ultimately chose the Fiat Ducato as the base for our replacement transporters as it delivered the best load weight without sacrificing power or driver comfort and at a cost that we found very workable. In addition to this, we have a very good relationship with Guest which helped us to explore a number of options that eventually led to the Ducato being chosen."

Fiat Professional's new Euro 5 Ducato offers a wide range of new content and a renovated engine family that enhances its competitiveness in the segment, and offers the market the best in terms of performance, comfort, payload and running costs.

All the new 2.3 litre Ducato engines are part of the second-generation MultiJet family, which represents technology, performance and economy.

All engines stand out for their exceptional performance, long service intervals, low consumption and CO2 emissions well below legal limits, as well as for their quietness and relatively low weight, which is always important for a commercial vehicle where payload is a key factor.

Tim Bailey adds: "The first members of our driving team to have seen the new transporter have been impressed with it too. Time will tell but our view is that our initial decision was the right one."

Helphire Group plc is a UK market leader in the provision of accident assistance to innocent drivers involved in road accidents. In partnership with the insurance and motor industries Helphire provides mobility solutions to not-at-fault motorists, ensuring that they remain mobile until their own vehicles are repaired, or until they are put in a position to obtain a replacement.