Fighting heart disease with Ateronon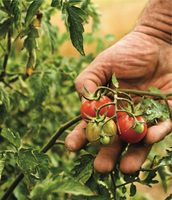 For people with concerns about their heart health, or for those with high cholesterol, a one-a-day naturally sourced food supplement containing tomato extract could have the answer.
Ateronon, by CamNutra Ltd, contains lycopene as its key ingredient and costs just £1 a day and is available over the counter at Boots and other pharmacies.
Lycopene is found in tomatoes and other red fruit and is a powerful antioxidant commonly found in a Mediterranean diet, which has often been associated with improved cardiovascular health. It helps to prevent natural damage and deterioration of the body's cells and is one hundred times more powerful than vitamin E.
Lycopene is fat soluble and is usually in large crystals which makes it harder for the body to absorb, but in Ateronon, it has been formulated to make it bio-available so the body absorbs the nutrients easily. In fact, to replicate the levels of lycopene found in the supplement, someone would have to eat 3kg of Mediterranean tomatoes cooked in olive oil each day as it makes it easier to absorb - that's a lot of tomatoes!
Developed by Cambridge scientists, clinical research has shown that by taking Ateronon daily for two months, it has been found to reduce the damage inflicted by 'bad' LDL cholesterol by 90% in testers. Reducing LDL cholesterol oxidation helps combat heart disease, reduces the risk of strokes and maintains healthy cholesterol levels, as it helps to prevent a build-up of plaque in arteries, which if left will leave a narrower space for blood to flow to all areas of the body.
Collectively, heart and circulatory diseases cause more than one in three of all deaths in the UK, accounting for more than 191,000 deaths each year and there are approximately 152,000 strokes in the UK each year, costing an estimated cost of £30 billion to the economy.
New trials are currently taking place to look into the effectiveness of Ateronon when used in conjunction with statins, which are prescribed to those suffering from high cholesterol and heart disease. With between six and seven million people in the UK currently taking statins[i], this is estimated to increase by 1.5 million in the next year. The results of these trials are expected to show that the combined use of Ateronon and statins together can significantly reduce cholesterol in a short period of time.
As Ateronon is a naturally sourced food supplement, it has no known side effects when taken as directed and can be taken alongside prescription medication too, however, it's always best to consult your GP or Pharmacist before taking if you have any questions.
Dr Alf Lindberg, former Chair of the Medical Board of the Nobel Prize Foundation and Scientific Director of CamNutra Ltd, comments: "The success of the product since its launch has been tremendous. Ateronon is the first and only lycopene supplement shown to provide enough bioavailable lycopene to inhibit the oxidation of LDL cholesterol. It's a regime product that people need to take on a daily basis and for those on statins, it's safe to take as an additional way to help improve your heart health.
"For anyone with cholesterol concerns, we have seen positive results from people that have taken our product through regular usage and we look forward to further results which prove the effectiveness of this naturally sourced supplement."
Ateronon is available to buy online from ateronon.com and is priced at £29.99 for one box of 30 capsules. It is also available to buy in Boots stores and independent pharmacies across the UK.