Schools out for summer! Spain voted favourite destination for families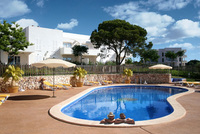 Families looking to make their holiday money go further this summer should look no further than the much loved destination of Spain according to recent findings from The Post Office Family Holiday report.
Currently, British families will have around 11.5% more spending money this year than last as the pound reaches a 12-month high against the Euro and with Spanish regions such as the Costa del Sol being voted one of the cheapest summer destinations for holiday extras including suncream, drinks, ice creams and meals out according to the study, there's every reason to visit Spain this summer.
If this news wasn't reason enough, families wondering where to take the kids this year now the long summer break has arrived might be interested in hearing that Spain has recently been voted the least stressful destination for parents looking to take their children on holiday. According to Jet2Holidays who conducted the survey, 30% of parents voted Spain as being the least stressful destination.
Meanwhile, if traveling without kids is an option, M&S Money has revealed that the average British adult will be around 25% wealthier if they take an overseas beach holiday than residing in London during the first week of the 2012 Olympic Games with Alicante revealed as the lowest priced destination at £927.
Marc Pritchard, Sales and Marketing Manager of Taylor Wimpey Espana comments, "Spain is consistently a popular choice for families due to its affordability and abundance of child-friendly Blue Flag beaches. As a parent, there's no need to worry about a long flight and lack of activities to keep the kids entertained. Indeed, Spain was voted the most family friendly country last year (ABTA Consumer Trends survey) and it's great to see that this accolade continues.
"At Taylor Wimpey Espana our properties have been designed to obtain maximum comfort with good sized and well thought out rooms all with excellent outdoor areas and suitable swimming pools. As well as this, our properties are well positioned, close to beaches and marinas where there's plenty to do whether that's for the children or the child inside you."
For property hunters looking for high quality affordable property suitable for family living Taylor Wimpey Espana has some excellent properties on offer in Spain at only 4% VAT until the end 2012.
El Puerto II situated in Cala d'Or, south east Mallorca has 2 bedroom apartments surrounded by generous gardens with native Balearic plants and 3 communal swimming pools. Costing from €204,500 this sophisticated complex is within reach of the blue flag beach, Cala Mondrago and just 10 minutes from Vall d'Or Golf Club.
Following the success of Cala Magrana I and II Taylor Wimpey Espana have launched phase III located just 500 metres from Cala Anguila beach and a stone's throw from the sea on Mallorca.
The Cala Magrana III residential complex is situated very close to several golf courses and the marina of Porto Cristo and consists of 2 bedroom apartments with sea views with a Mediterranean design surrounding a communal garden and swimming pool priced from just €205,000 + VAT.
For more information, visit taylorwimpeyspain.com.