Britain and Ireland's top club pro golfers head to Carden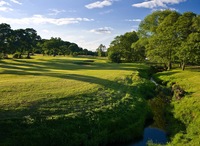 If the Open Golf at Royal Lytham & St Annes has whetted your appetite for watching some quality play, then put August 7-10 in your diary and head to De Vere Carden Park, near Chester.
This award winning hotel, golf and spa resort is hosting the Glenmuir PGA Professional Championship Finals on its Nicklaus Course – and it's free to spectators.
The PGA championship pitches the skills of club professionals from Great Britain and Ireland against one another in a series of regional qualifiers, culminating in the grand final which, this year, is being played at Carden Park.
The event also has added significance because through a points system it decides the Great Britain & Ireland team to play America in the PGA Cup, which is the club pros equivalent of the Ryder Cup. Representing GB&I in the PGA Cup ranks as one of the pinnacles of a club professional's career - a special week in the life of a club pro where the cream of home pros line up against the very best of America's.
Down the years, the championship has been played at some of golf's most famous courses including Royal Birkdale, Turnberry, Royal St David's, Carnoustie and Prince's, reflecting the prestige and standing of the tournament.
Hamish Ferguson, general manager of De Vere Carden Park, said: "We are delighted to join a list of illustrious venues that have hosted this key event in golf's calendar. It's a great opportunity for spectators to just turn up and enjoy watching some high quality golf."
Over 150 qualifiers will compete for a £78,000 prize fund over 72-holes at Carden Park from August 7 to 10.
For those who prefer to play than watch, Carden offers some great golfing facilities, which earlier this year saw it named Best Golf Resort / Hotel in the North of England in the Today's Golfer Travel Awards 2011, voted for by golfers.
Situated within a breathtaking country estate, golfers at Carden Park have a wealth of facilities to enjoy including the two stunning championship courses - The Nicklaus Course and the Cheshire Course - and a driving range with 13 covered and eight uncovered bays. The four star hotel boasts 196 luxury bedrooms and suites, award winning restaurants and a sumptuous spa as well as a host of outdoor activities.
For more information, visit cardenpark.co.uk/golf.