BBC Two's Rev to return for third series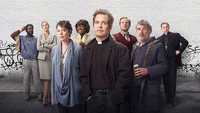 Big Talk Productions have been commissioned to produce a third series of the critically-acclaimed and multi-award winning comedy Rev for BBC Two, with co-creator Tom Hollander returning as the Rev. Adam Smallbone.
Controller of BBC Two, Janice Hadlow, said: "We're absolutely delighted to have Rev back on the channel. It's one of the real comedy jewels in BBC Two's crown."
Chief Executive of Big Talk Productions, Kenton Allen, added: "Such is the brilliance of the Rev cast that getting everyone back together for further adventures is always challenging. But I'm delighted that we've managed to get Adam and his congregation back into Church for what I hope will be an extraordinary third season of a show that is extremely special for all those involved."
Co-creator James Wood will once again be the lead writer on the series, with multi-award winning Peep Show creator Sam Bain returning as script editor. Hannah Pescod will continue her involvement in the series alongside Kenton Allen. Chris Sussman is BBC Executive Producer.
Debuting with 2.2 million viewers on BBC Two, Rev has gone on to won Best Sitcom at the 2011 BAFTA awards and Best Comedy at the South Bank Award 2010. At the 38th annual Broadcasting Press Guild Awards it took home Best Comedy/Entertainment, the writer's award for Tom Hollander and James Wood, and two awards for Olivia Colman, (Best Actress and the Breakthrough Award), for her role as Alex Smallbone.
Other nominations include Best Sitcom and Best Male Performance in a Comedy Programme at the 2012 BAFTA Awards; Best Comedy and Best Comedy Performance for Tom Hollander at the Royal Television Society Programme Awards and Best Comedy Actor at the British Comedy Awards 2010.
The series was re-commissioned by Controller of BBC Two Janice Hadlow, and Controller of BBC Comedy Commissioning, Cheryl Taylor.
Development for the new series will start this year, shooting in Autumn 2013 for transmission in 2014.