Help and advice to choose your first home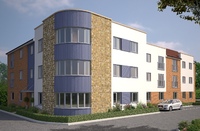 Would-be home owners who don't know their FirstBuy from their NewBuy can find all the answers at a special event being hosted at Redrow's Sutton Woods development in Maidstone.
Happening this Saturday (August 11) from 11am to 4.30pm, Redrow has appointed mortgage specialists to attend on the day to help home buyers get to grips with the different schemes available to them.
The primary focus will be FirstBuy, which cuts the initial cost of owning a brand new home by one-fifth (or 20%) and is available on selected apartments and houses at Sutton Woods.
Christie Alaimo, sales director for Redrow Homes (Eastern), said: "In my experience first time buyers can find the experience of buying a home quite daunting, especially with so much help now available in the shape of government backed initiatives like FirstBuy and 95% mortgages through NewBuy.
"Our event is designed to simplify the whole process and help our potential purchasers to make the right choice. FirstBuy, for example, is a great opportunity but time and funds are running out so it's crucial that those interested act now.
"The best news for purchasers is that they'll need a smaller deposit than usual and their monthly mortgage repayments should be lower than expected. They may even work out at less than the monthly rent on a similar sized apartment."
FirstBuy is available on selected apartments and smaller houses being built at Sutton Woods, where open market prices range from £144,950 for a two-bedroom apartment to £269,950 for a four-bedroom home.
The contemporary homes are bright, spacious and well planned, with open plan living areas, essential storage space and well specified kitchens and bathrooms. Integrated kitchen appliances are included in the standard specification so new home owners won't have to worry about buying and installing an oven, microwave or fridge freezer.
Running costs should be less too as eco-friendly measures, including solar panels, are featured as standard in the new homes. They are also well-insulated, with energy efficient central heating systems and double glazing.
Using FirstBuy, a £144,950 apartment can be bought for only £115,960, with the outstanding balance covered by an equity loan, jointly funded by Redrow and the Homes and Communities Agency. The loan is interest free for five years and can be repaid when the home owner has more funds available.
To be eligible for FirstBuy customers must have an annual household income of less than £60,000 and be first time buyers or returning to the housing market after a change of circumstances.
Those who don't qualify may still find themselves propelled onto the property ladder without a hefty deposit as the homes can also be made available with 95% mortgages under the Government backed NewBuy initiative.
Sutton Woods is close to Mote Park and Maidstone town centre. A high speed rail service from Maidstone West station takes just 47 minutes to reach London St Pancras, during peak times on weekdays; while Maidstone East station offers journey times to London Victoria or Charing Cross of around an hour.
To find out more, visit redrow.co.uk.