1Xtra celebrates 10 years championing the best in black and urban music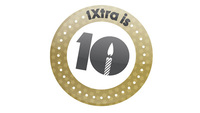 BBC Radio 1Xtra celebrates its 10th Birthday on Thursday August 16th with a host of special programmes, performances and documentaries to mark the milestone.
The 12 days of celebrations (Thurs 16 - Mon 27 Aug) kick off on Thurs 16 with 10 live sessions from BBC Maida Vale Studios across the day - 1 per hour from 10am-7pm - with artists who have become friends of the network, including Dizzee Rascal, Jessie J and Professor Green, all of whom the station has championed from the very beginning, giving them their first ever national radio play.
Two special documentaries will tell the station's history – The Story Of 1Xtra: The Creators (Sun 12 Aug) will tell the story of the build up to the station's launch in 2002, while the The Story of 1Xtra: Ten Years In The Making (Sun 19 Aug), will tell how the network has grown over the last 10 years.
Radio 1Xtra launched on 16 August 2002, and over the past decade the station has played a pivotal role in changing the UK's musical landscape, bringing urban music to the mainstream.
1Xtra has grown from a fledging digital network championing British black and urban music when few others were, to become a mainstream network with over one million listeners, which has helped to support the growth of Grime from a London-centric trend to a national phenomenon and supported artists from the start of their careers who have gone on to be massive stars including Plan B, Wretch 32 and Tinie Tempah.
The station has also been instrumental in supporting the best international urban music, being the first national UK station to playlist Kayne West in 2003, Rihanna in 2005 and Frank Ocean in 2011.
Ben Cooper, Controller, BBC Radio1 and 1Xtra, said: "BBC Radio 1Xtra celebrates a fantastic decade of championing black and urban music in the UK. It's a privilege for myself and the staff of 1Xtra to have record listening figures, as the artists we have supported from the beginning, dominate the charts. Radio 1Xtra's new schedule in September will see a new generation of presenters champion a new generation of artists for a new generation of listeners – it's going to be exciting."
Tinie Tempah, who the station has supported since 2006, says: "You guys have been a very, very fundamental part of my journey, without you guys I definitely wouldn't be where I am. The reason why British black music is so predominant at the minute, is because there's been a foundation, there's been 10 years of people like yourselves… who have been drilling into the UK's heads this is what you should be listening to."
"Not only is this the 10th birthday for 1Xtra, but I'd say it's the 10th birthday to celebrate the real beginning of the moment where British underground and urban music had an opportunity to really become big and become mainstream. If it wasn't for 1Xtra there's so many artists now who are touring across the world, or so many artists who have just got record deals a year ago, six months ago, that wouldn't have because of this station."
As part of the Maida Vale sessions on 16 August Charlie Sloth will take his infamous freestyle feature "Fire in the Booth" and present "Legends in the Booth", paying homage to heritage artists. 1Xtra Hip Hop presenter DJ Semtex will collate a stellar cast of UK artists together to perform a live dubplate special all themed around 1Xtra, produced by Yogi. DJ Cameo who presents the MC Talent Contest Lyrical Master for 1Xtra will challenge celebrity MC's to battle it out on the mic. 1Xtra's Ronnie Herel will charge two of RnB's newest stars to encapsulate 10 years of the biggest RnB tracks in one special 1Xtra RnB medley.
Throughout the week other 1Xtra shows will also celebrate 10 years of the station's existence - Ace and Vis will be broadcasting every day throughout the 10th birthday period where they will have a DJ joining them every day to talk about their favourite 1Xtra moment and to go into the mix. A DJ Relay will run "horizontally" on the network through Ace and Vis's show from Fri 17-Sat 25.
On Monday 27, Radio 1Xtra's annual Notting Hill Carnival broadcast will have a 10th birthday spirit. Broadcasting live from the heart of Carnival 1Xtra will be wrapping up our celebrations with special live guests, artist freestyles and reflecting all the fun, entertainment and colour of Carnival.