Everybody needs good neighbours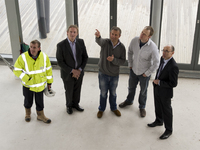 Worcester's rejuvenated Diglis Basin is fast becoming the ideal place to live, work and play as home builder Taylor Wimpey Midlands welcomes a new neighbour to the waterfront location.
Due to the stunning setting, leading technology company Postcode Anywhere has recently announced it has chosen to locate its brand new UK Headquarters at the attractive Diglis Basin.
"Our Diglis Water residential development has put Diglis Basin on the map as a highly appealing place to live," says Anne Wallace, regional sales and marketing director for Taylor Wimpey Midlands. She adds: "Meanwhile, the trendy office space adjacent to our properties offers the perfect location for creative and forward-thinking businesses, so we're delighted to welcome Postcode Anywhere to the area."
When visiting the Diglis Basin, it's easy to see why it's appealing to house hunters and businesses alike. While situated close to the heart of Worcester's thriving city centre, it sits on the junction of the Birmingham and Worcester canal and the River Severn and overlooks beautiful meadowland beyond. There is also pleasant parkland to enjoy and a number of cycle and walkways for homeowners, businesses and visitors to take advantage of.
Guy Mucklow, managing director for Postcode Anywhere, comments: "When looking for a new location for our business we wanted somewhere that really reflected our success.. The beautiful surroundings of the Diglis Basin presented the ideal opportunity for our flagship premises and it's great to be part of the rejuvenation of a key part of Worcester.
"We are looking forward to partnering with Taylor Wimpey Midlands on further promoting the benefits of the Diglis Basin location."
If you are interested in the award winning homes available at Taylor Wimpey's Diglis Water, you will be pleased to know there are currently a number of stunning new homes available for sale. The development boasts a collection of one and two bedroom apartments and a selection of three bedroom townhouses. Prices start from £129,995.
For further information, visit digliswater.co.uk.