Nokia Lumia 610 - available now on Three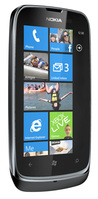 The affordable Nokia Lumia 610 runs the latest version of Windows Phone (7.5), offering one of the quickest smartphone experiences available with access to more than 100,000 apps in the Windows Phone Marketplace. The unique Windows Phone operating system brings live information updates on friends, news and apps straight onto the home screen, allowing the user access to information they want at a glance. In addition, Windows Phone 7.5 can act as a mobile Wi-Fi hotspot so gadget fans can share their internet connection, connecting laptops and tablets to it with ease.
Like all smartphones in the Lumia range, the Nokia Lumia 610 comes with a selection of fantastic apps that are unique to Nokia products such as Nokia Drive and Nokia Music. Nokia Drive provides sat nav with turn-by-turn, spoken directions so there's no chance of getting lost. Fantastic for listening to music while on-the-go, Nokia Music is a free service and includes 'Mix Radio' which provides regularly updated playlists showcasing the best in new music and old favourites (data charges may apply). Plus, Nokia Music also features a built-in gig finder to help people find out what's on in their area. Music maestros need never be without their tunes again.
The Nokia Lumia 610 also includes a fantastic array of photography features. Group Shot allows the user to take a high speed sequence of images and combine the best bits of each, ensuring that everyone in the shot has their eyes open and beaming smiles. Action Shot allows sport and wildlife enthusiasts to create a montage of several shots, and the Panorama mode makes it easy to capture the big picture. While the Self-Timer ensures you have plenty of time to be captured in the picture too.
Sylvia Chind, Head of Devices at Three said: "Not only is the Nokia Lumia 610 an affordable and attractive handset, it's also packed full of fantastic features for photographers which make it a stellar choice for any first time smartphone buyer."
The Nokia Lumia 610 is available from £15 a month with no upfront cost on the Ultimate Internet 100 plan with a guarantee of no surprise out-of-bundle data charges.
The smartphone is also available on Pay As You Go for £149.99 plus a top-up. All in One 15 costs £15 and gives 30-day access to All-You-Can-Eat data along with 300 any-network minutes and 3,000 texts. Or All in One 25 costs £25 and offers 500 minutes, 3,000 texts and All-You-Can-Eat data for a 30-day period.
Key features:
Windows Phone 7.5 operating system
Free turn-by-turn sat nav with spoken directions with Nokia Drive
Free playlists and customisable radio channels with Nokia Music
Navigate your city's public transport system with Nokia Transport
Fantastic camera effects including Group Shot, Self Timer, Action Shots and Panoramas
Share your photos, videos or music collection with friends by sending the content wirelessly to your DLNA-enabled TV or set-top-box