Iron Men to storm Pembrokeshire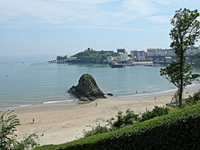 This September, over 1,500 entrants from more than 40 countries are expected to converge in Pembrokeshire to test themselves against this year's Ironman Wales 2012 event.
On Sunday the 16th of September, competitors will be expected to complete a 3.8km swim from Tenby's South Beach, before undertaking a scenic 180km bike ride through south Pembrokeshire and a 26.2km run in and around the historic town of Tenby. The race is set to start at 7am, and if last year is anything to go by, the atmosphere alone will be more than worth the visit!
With key staff member Billy Connor signed up to take part, FBM Holidays are the perfect hosts for the event. Billy has been training for the last 6 months and knows all about the local area, so whether you're looking for an accommodation just a short distance from the starting line, the top local training spots, or even the best place to enjoy a relaxing massage post-event, no other accommodation provider can provide more information than FBM.
And if you're not taking part in the event, Pembrokeshire is a fantastic destination for a holiday, having recently been voted one of the very best coastal destinations on the planet with plenty to do and see for all members of the family.
Tim Brace, Partner of FBM Holidays and Chairman of Pembrokeshire Tourism, said "We're delighted that one of our team will be representing us at this year's Ironman Wales competition. We've supported Billy the whole way, even through his early morning swims and long training sessions, so we'll be wishing him the very best of luck come race day."
With countless family-friendly cottages and apartments dotted around the Pembrokeshire coastline, FBM Holidays are sure to have the right accommodation to rest your weary legs, whether you've been gently exploring the Coast Path or vying for the title of Ironman Wales 2012! If you're hoping to soak up the luxury after competing, then look no further than Bryn Y Mor, an exclusive 5* development with heated indoor swimming pool, sauna and gym, which is also just a short walk from the centre of Tenby.
About FBM Holidays
Established in 1833, FBM has been a respected and well-known estate agent selling property in Pembrokeshire for over 150 years. Since 1900 FBM Holidays has gone from strength to strength to become one of the most successful self-catering accommodation agencies in West Wales. They are located in the beautiful seaside town of Tenby, where their local staff can advise customers on any aspect of their holiday. In 2011 they were up 10% on their bookings. In 2012 they are going further than ever to offer the best possible choice of attractive holiday properties – and at their best value-for-money prices ever.
For more information, visit fbmholidays.co.uk.