Cook Islands: The Vaka Eiva Festival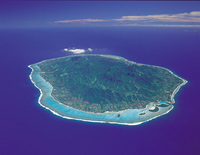 The Cook Islands prepares itself to welcome over 800 competitors taking part in one of the most unique water sports events in the world, the Vaka Eiva Festival, held from 24th-30th November 2012.
The famous South-Pacific welcome is extended to both tourists and participants who can be swept up not only in the competitive water sports but also the culture, cuisine and celebratory atmosphere. This is all set to a backdrop of clear blue lagoons, beautiful beaches and lush forest mountains.
Karla Eggleton, Sales and Marketing Director of Cook Island Tourism says; "The annual international event of Vaka Eiva has come from small beginnings eight years ago, to become the largest international annual event in the Cook Islands. The competition has dual benefits; it is a great celebration of Cook Islanders culture and heritage as well as a wonderful tool to showcase everything that the islands have to offer to visiting tourists and competitors; from the cultural richness to the beautiful natural surroundings, the Cook Islands are not just a beach destination."
In addition, it is also an event in the calendar that involves and supports the local community by bringing together international visitors and local Cook Islanders, as well as raising funds through the various Vaka Eiva activities, which in turn is given to local charities on the island."
The South Pacific Islands will host international competitors in classes from junior to senior level, in swimming, boating and canoeing. The final event and perhaps the most famous, is the Round Raro Relay, where participants paddle traditional canoes through the Muri Lagoon around the island of Rarotonga. The festival also celebrates the canoes that are used in the races, which are similar to those used in the great Maori migration to New Zealand and for fishing by islanders today.
Entries for this year's event have now closed, however Vaka Eiva is as equally popular with spectators as it gives tourists an insight into the sport and Polynesian culture.
Vaka Eiva packages include:
12 nights at the Little Polynesian Resort and Spa from £3470.00 per person
Wexas Travel has a 12 night package in Rarotonga including return international flights with Air New Zealand from Heathrow, private return airport transfers and 12 nights at the Little Polynesian Resort and Spa in a Garden Are, including breakfast. This package is valid for travel between 16 August and 30 November 2012. To book, visit wexas.com.
14 nights at Royal Takitumu Villas from £3,099 per person
Austravel offer this holiday which includes return international flights from London Heathrow (outbound via LA, inbound via Auckland and LA/Hong Kong) to Rarotonga, a Lagoon View Villa at the four star Royale Takitumu Villas, daily tropical breakfast as well as, use of kayaks and snorkelling equipment. This package is based on travel on 18 November 2012. To book, visit austravel.com.
For further information on the Cook Islands visit cookislands.travel.